Tactical Analysis: The importance of Fred – Season report 19/20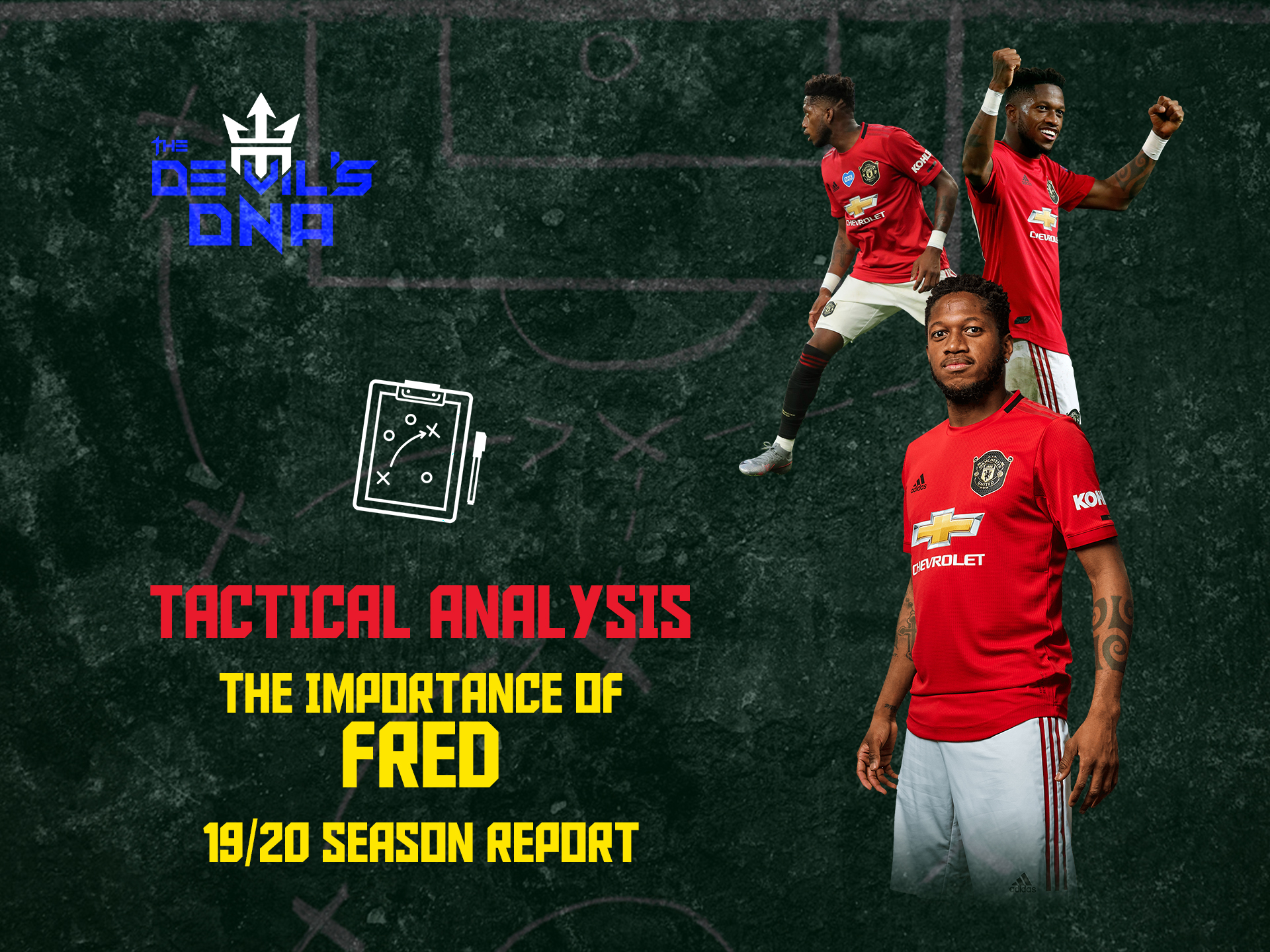 There are many Manchester United players who divide opinion among the passionate fanbase. None more so than Brazilian midfielder Frederico Rodrigues de Paula Santos, better known as Fred. After a torrid time under Jose Mourinho, Fred has found his feet under Ole Gunnar Solskjaer and delivered some of his best performances in the first half of the 19/20 season before being shifted to a backup role after the return of Paul Pogba in the second half. From a failed transfer to Player of the year candidate to backup player, the last 18 months for Fred have been a whirlwind. The reality for the player is somewhere in between all these opinions. Let's dive deeper to analyse Fred's season, strengths and weaknesses and indulge in some conjecture over his Manchester United future.

Strengths & Weaknesses
We start with a simple analysis of what Fred brings to the team. The infographics below highlight Fred's ranking of various statistics among all Premier League midfielders to have played 15 games or more over the 19/20 season. There are about 100 midfielders who fit this criteria.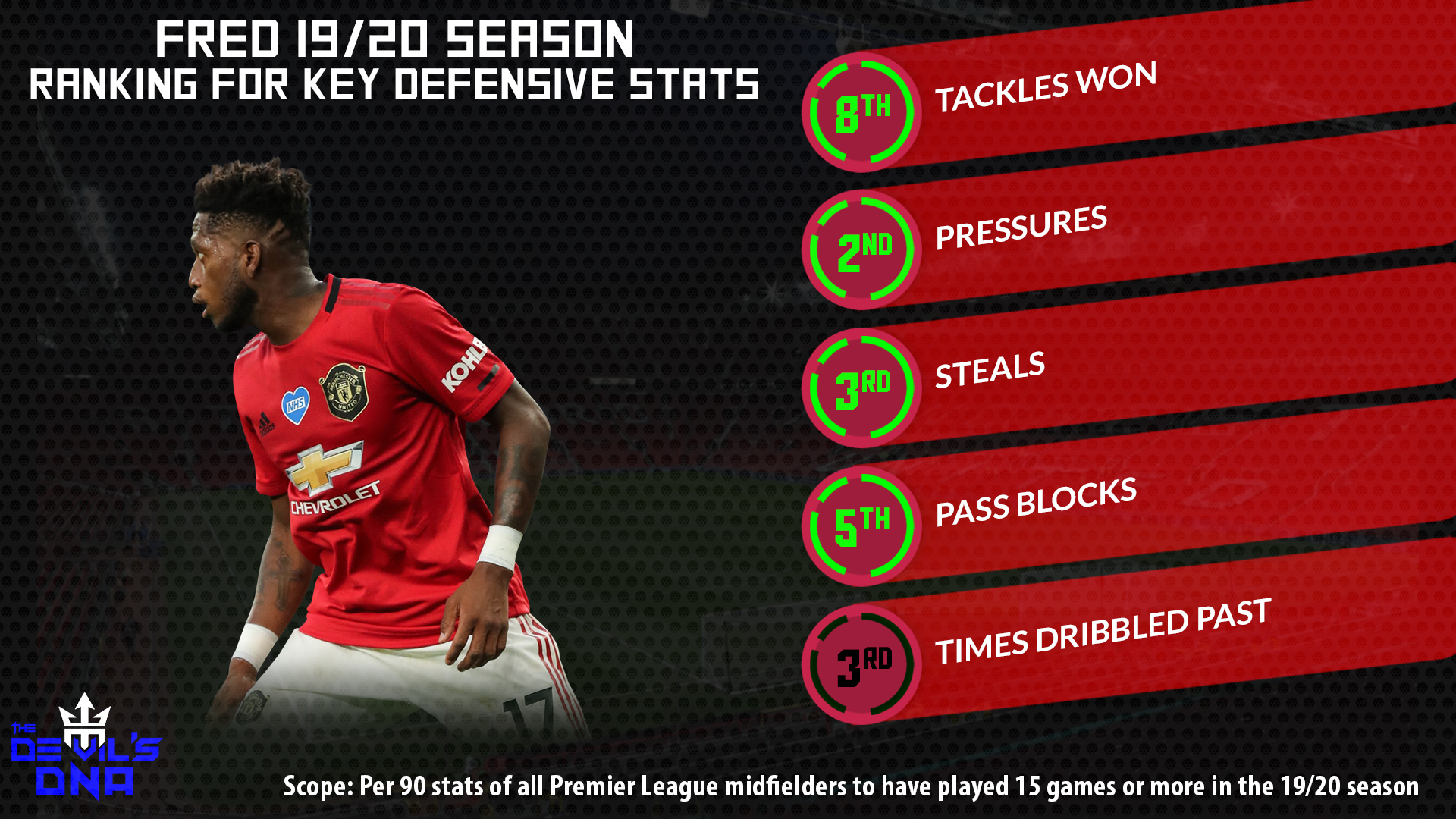 We look at the defensive stats first since that's been a huge part of Fred's achievements this season and immediately we see that he ranks 8th, 2nd, 3rd and 5th for tackles won, pressures, steals (Number of times the squad gained possession within five seconds of applying pressure) and pass blocks respectively among Premier League midfielders this season. Additionally, he also ranks 6th for tackles in the defensive third and 2nd for steals in the defensive third. His defensive aura reduces in the middle third (ranking 11th for tackles and 6th for steals) while its almost non-existent in the attacking third (ranking 64th for tackles and 50th for steals) indicating much of his defensive work comes deeper than higher up the pitch. The reasons for this will be highlighted further when we discuss his tactical fitment. But the above table also points out a glaring weakness of Fred's game. He ranks third in times dribbled past in the league suggesting that shielding the defence and positioning are big weaknesses. The amount of aggressive pressures he makes often lets opposition players slip by. It's a catch-22 situation where the benefits of a successful pressure and opportunity to counter come at the cost of attackers getting past him.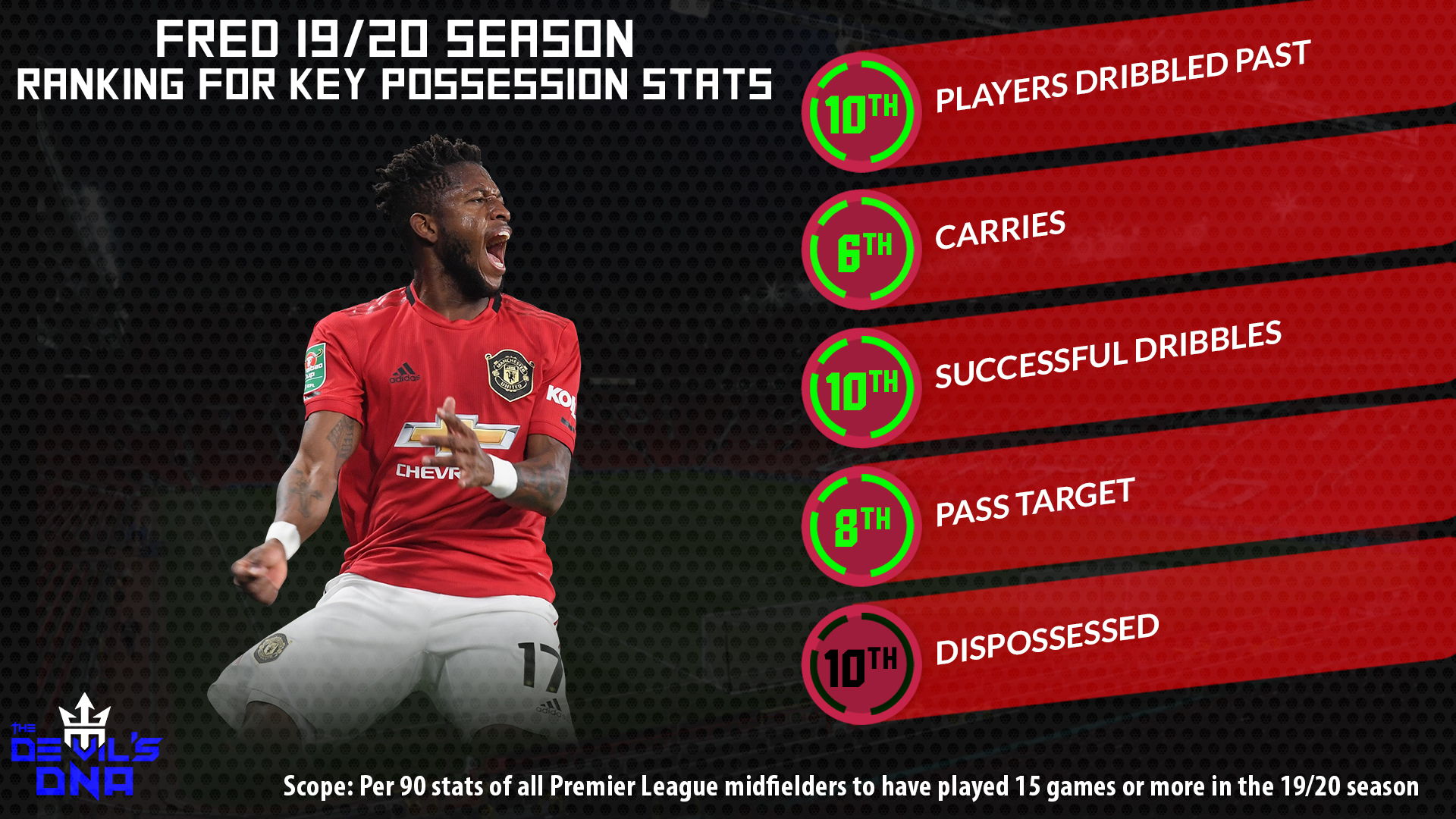 Looking at the possession stats, we see positive rankings for successful dribbles, players dribbled past and carries (Number of times the player controlled the ball with their feet) indicating Fred's strength as a dribbler. He is confident enough to make dashes with the ball after recovering them in midfield and a decent progressive distance (Total distance a player moved the ball towards the opponent's goal) rank of 12th also indicates that most of these are purposeful vertical dashes towards goal. His pass target (Number of times a player was the target of an attempted pass) rank of 8th also indicates how the other United players have looked at him to carry the ball out of defence often. The big weakness here is the high dispossessed rank of 10th suggesting that often in these attempts he also loses the ball which is further confirmed with his miscontrols (Number of times a player failed when attempting to gain control of a ball) rank of 28th – suggesting that Fred isn't the 'safest' option in midfield from a ball retention point of view. For a team that prioritizes keeping the ball this would prove to be an issue.
Finally, as we check the passing stats, there is a clear skew towards progressive passing rather than safe/short passing. Fred excels at purposeful passing ranking 8th best for passes into the final third, 6th for completed passes distance (Total distance, in yards, that completed passes have traveled in any direction), and 8th in progressive passes distance (Total distance that completed passes have traveled towards the opponent's goal. Note: Passes away from opponent's goal are counted as zero progressive yards) only being bested by pure attacking midfielders in these stats which is unique given the time he spends in his own third of the pitch while defending. He ranks 28th for short passes completed and 37th for short pass completion % indicating that he's better at going long and direct instead of short and safe. His number of key passes are decent (rank 28) for his position while his zero assists statistic this season isn't a huge surprise considering his defensive role.

To summarize the stats above, this is a midfielder who presses and wins the ball in his own third, progresses with the ball purposefully in the middle third and attempts and pulls off many direct passes into the attacking third – but all this comes at the cost of safe possession and control.
Tactical Fit
Our understanding of Fred will be further highlighted if we spend some time analysing Ole Gunnar Solskjaer's tactics for the season. Without diving too deep, (that can be a whole other article) it's clear that Ole preferred to play on the counter in the first half of the season while going for a much more possession-oriented game in the second half of the season. The Norwegian made the best of what he had starting the season based on the strengths of his newly formed defence, pace of the attack and ball winning ability of his midfield. This was where Fred shined. The aim was to drop deep, absorb, press, steal, and play progressive passes to the front 4 who could then hit teams on the break. This was what Fred was good at. There was no pressure to keep possession or play safe. There was no playmaking burden placed on the Brazilian as he displayed his tenacity, energy and drive to consistently defend and initiate counter attacks at the cost of possession. By December, Fred was already a frontrunner for Manchester United's Player of the year award.

But, it has to be said, he seemed like the best piece of a team that wasn't doing all that well. While results came in big games where the counter approach suited United, it was games against the bottom half where the lack of creativity cost them heavily keeping them far from the top 4 where they aimed to be. Bruno's arrival and Pogba's return offered Solskjaer a great opportunity to change that.

Now armed with creativity in the middle of the park, Ole resorted to a possession based system. While the shape remained a 4-2-3-1 on paper it resembled the classic 4-3-3 possession-oriented shape in game. The perfect foil for a midfield containing Pogba and Bruno was Nemanja Matic. The Serbian, though aged, possesses a few things Fred doesnt – positioning, build up play and safety in passing. Using the same data and scope given earlier, Matic ranked 6th in passes completed and 8th in pass completion % while playing the 8th most passes into the final third. He was tailor-made to play the deepest role in a possession-based tactic. This system now meant Matic's lack of aggression, pressing and progressive dribbling was not an issue. His ball retention, safety on the ball, positioning and shielding offered things Fred could not.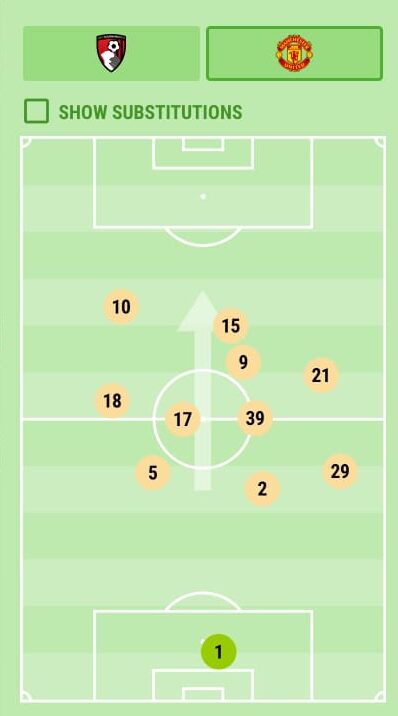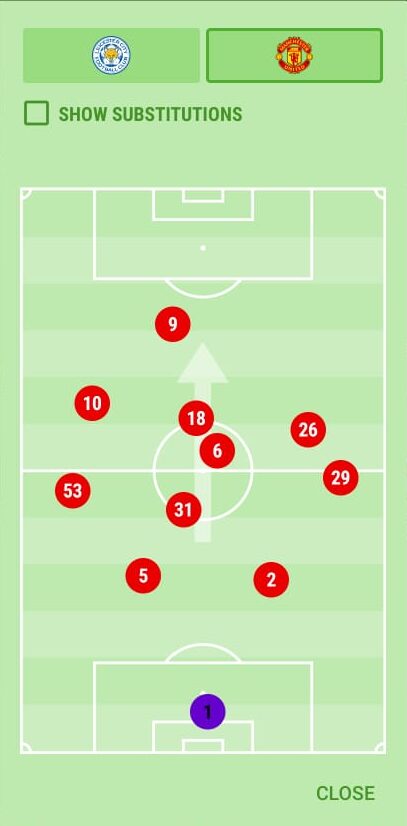 The images show the average position of the players in two games picked out from both halves of the season. Earlier in the season against Bournemouth, the 4-2-3-1 shape is more prominent with Fred (#17) and Scott Mctominay (#39) shielding the back four as a pivot. The formation is skewed towards the left as Rashford remained the threat on the counter. In comparison the other image is from the game against Leicester towards the end of the season which clearly shows a deep-lying Matic (#31) giving Pogba (#6) and Bruno (#18) creative control at the center of the park. The attacking pattern and shape is much more uniformly distributed thanks to the possession and positional play of Matic.

As United blazed through an unbeaten trail of 14 games to clinch an important 3rd placed finish, Fred watched from the sidelines. And he would have watched knowing he doesn't fit anymore. The few times Fred took to the pitch as a substitute during this run, the team's ball retention dropped heavily as they ceded possession and invited pressure. One of these occasions cost the team 2 points against Southampton as the substitutes Fred and James couldn't imitate the ball retention of Pogba and Greenwood. The FA cup semi-final saw Ole revert to a back five with Fred in midfield in an attempt to channel the counter-based successes from the first half of the season. But it backfired horribly as United failed to create anything of note and Fred had another poor outing. 
What does the Future hold?
United ended the league season on a hugely positive 3rd placed finish and three respectable, if not emphatic, semi-final finishes. It won't be a big surprise if Fred isn't as ecstatic as the others in these celebrations. If the possession-based tactic remains Ole's blueprint for long-term success, the Brazilian has enough cause for worry. He is neither as creative as Pogba, nor as output-oriented as Bruno nor as safe and effective as Matic in possession. It wouldn't be far-fetched to say Fred now feels like a square peg in a round hole. Turning 27 this year, the opportunities to be a starter for a big club at his peak will only reduce from hereon, increasing the doom and gloom around his current situation.

But can a run of 20 games be that damning for a player? Probably, but if football has proven anything, it is that short-term judgements often remain just that. Fred has done enough this season to stay and get chances to prove himself. With Matic's age and Pogba's slightly-concerning injury patterns, Fred will find himself in Manchester United's midfield a few more times for sure. Fred can improve on the things he lacks to prove useful in a possession-based system. It's not unheard of for ball-winning midfielders to adapt and obtain a pro-possession orientation especially later in their career. Jordan Henderson comes to mind. The Englishman mostly operated as a ball-winner or box-to-box player for most of his career but has displayed unrivalled maturity and reliability in a deeper role in recent seasons under Jurgen Klopp. Nemanja Matic himself started as an attacking midfielder, then played as a ball-winning midfielder for large parts of his Chelsea career before his current stint as an efficient deep-lying playmaker at the age of 32.

Fred can take faith in these transformations and add a possession-oriented dimension to his game which most top teams demand in some way or the other. If Manchester United are going to improve as a team under Ole Gunnar Solskjaer's leadership, it will require players like Fred to improve and be counted as well. Additionally, Fred can also take faith in the fact that he still remains United's best option if a counter-based approach is needed. He had a good outing against Sevilla in the Europa semi-finals where the red devils' adopted a more counter-pressing style of play, ending his personal season on a positive note. United are still some way off to dominating the likes of Manchester City and Liverpool in terms of possession and with Champions League teams to face from next season onwards, the chances of playing on the counter and relying on Fred's strengths will never be too low.

A combination of these 2 factors can see Fred extend his United career and still be a contributing member of a grand new era under Solskjaer. All said and done, Fred has already shut up those who doubted him after the 18/19 season by standing tall as one of United's best players in the 19/20 season. It won't be a surprise if he shuts up the ones (like me) who doubt whether he can improve even further.