Manchester United rewarded their patient fans with their first foray into the summer transfer window with the signing of Donny Van De Beek. The Dutch international reportedly comes on a 5-year contract with a transfer fee of 39m Euros + 5m Euros in add-ons – a very shrewd acquisition given the fee and United's need for midfield depth. The quality in that department now means that manager Ole Gunnar Solskjaer has many combinations to consider for the coming season. We analyse what Van De Beek brings to the table and the best midfield combinations as a result.

Van De Beek playing style

Solskjær's official statement after signing Van De Beek: "His [Van de Beek] ability to see space, time his movements and read the game will really complement the qualities that we have in midfield and his arrival really strengthens the depth of talent we have in that position."

Ole clearly knows what he's talking about. Donny adds a few qualities to United's midfield that are largely absent and his weaknesses are already covered with qualities of the existing roster.

Firstly, let's analyse his playing position and role. Donny has spent the majority of his time playing in the No. 10 position in a 4-2-3-1 in his time at Ajax. He is predominantly an attacking midfielder. De Jong's departure saw him play in a central midfielder role last season as Ziyech took the no.10 role and Neres the right wing slot. In half the games when one of these 2 players would be dropped to bench, De Beek would retain his no.10 spot. He ended up starting 19 times in the attacking mid slot and 18 times in central midfield as a result. Even the times Donny featured in central midfield, the defensive-minded Lisandro Martinez sat back to allow VDB to bomb forward and give a 4-1-4-1 shape during attack similar to how Matic allowed Pogba to join Bruno in attack during the second half of United's season. From these, it can be inferred that Donny would serve as a competitor for Bruno and Pogba in United's first XI or speaking role-wise, the box-to-box role and the no.10 roles. We will get back to this when we discuss combinations.

Next, we compare Van De Beek statistically with United's midfielders to see what he brings to the table. All players who played in the 3 midfield roles in Ole's 4-2-3-1 have been considered. These 7 players are Bruno Fernandes, Paul Pogba, Scott Mctominay, Fred, Nemanja Matic, Andreas Perriera and Jesse Lingard. Only stats for the 19/20 league season have been considered. While the Eredivisie vs Premier League difference will obviously be there, this comparison should serve as a good indication.

Firstly it must be said that VDB played 23 of the 25 Eredivisie games this season. Over the last 2 seasons he played in all 34 games in each season for Ajax coming on as a substitute only 5 times in this stretch. His fitness is impeccable and a big pro given Pogba's regular niggles.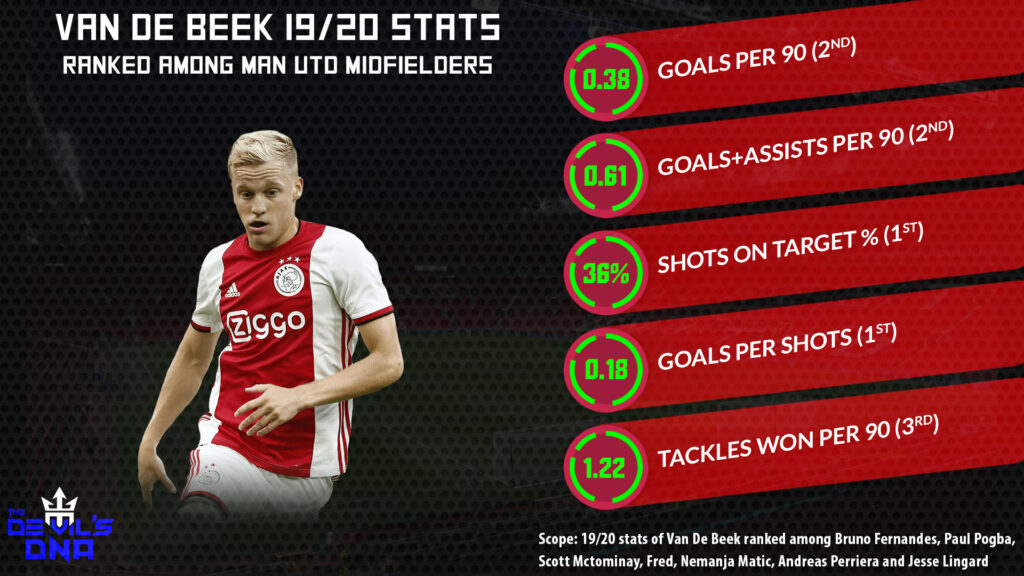 His goals per 90 is 0.38 inferior only to Bruno at 0.61 who has had an amazing period since joining the club. Scott is the next closest at 0.2. Donny's shots on target % is highest at 36% beating Bruno (35%) and Pogba (33%). His shots on target per 90 is 0.75 inferior only to Bruno (1.06) and Andreas (0.85). His goals per shots is the highest at 0.18 beating Scott (0.13) and Bruno (0.1). These stats indicate a player who is an adept and efficient scorer. VDB guarantees goals without being wasteful. He is a player who picks his moments and possesses immense technique and finishing prowess. Unlike Bruno, he is not too trigger-happy and rarely attempts long-range shots. Smart off-the-ball movement to ghost into good areas and well-placed finishes are the two big traits that fans can look forward to. He has already shown a glimpse of this in his substitute appearance against Luton this season.

He scored 8 goals last season matching Bruno's half-season tally while being far ahead of any other United midfielder. His 5 assists also rank him second after Bruno (7) placing him second-best in terms of goal threat. This is confirmed with his strong G+A per 90 stat of 0.61 only bested by Bruno again (a ridiculously good 1.14) while being far ahead of Pogba at 0.25. These signify Donny's goal threat. While Ole has markedly improved United's defence conceding 20 less goals in the league compared to the 18/19 season to bring the goals conceded stat to 36 (only bested by Liverpool and Manchester City in the 19/20 season by 4 and 2 goals respectively), the goals scored stat hasn't improved much going from 65 to 66 goals from 18/19 to 19/20. While this can be attributed to Lukaku leaving, Greenwood settling in and Martial's first full season playing as the centre-forward, Ole will want more goals. A full season with Bruno should help that but Van De Beek chipping in with a few goals and assists will help as well. If more firepower is what Ole is looking for, he is getting that with VDB for sure.

An underrated part of Donny's game is the defensive aspect. While his best work undoubtedly comes in advanced areas of the game, he is no passenger in the defensive phase showcasing intense pressing and a penchant for crunching tackles in key moments of the game. The stats highlight these as well. His tackles won per 90 is 1.22 bested only by Fred (2.13) and Scott (1.57) who have both played in much deeper and ball-winning roles this season. Donny beats Bruno (1.06), Matic (1.1) and Pogba (1.19) indicating what a good tackler he is despite his attacking traits. His interceptions per 90 are also decent at 0.75 surpassed by Scott (1.68), Fred (1.58) and Matic (1.31) who play much deeper than him. Pogba at 0.37 and Bruno at 0.68 are the next best. This fits really well with Ole's requirements of a hard-working ball-winning midfielder. The only thing Donny can be accused of not being a master of is playmaking. His key passes, chances created and through balls aren't especially great indicating playmaking isn't his strength. He prefers to be on the end of assists with his intense off-the-ball runs which fits well with the likes of Pogba, Rashford, Martial and Bruno who now have another partner to find in the attacking phase while deconstructing defences.

In a nutshell, United fans can look forward to an aggressive attacking CM/AM player who has a knack for scoring goals, guarantees intense pressing and tackling in midfield, prefers to be on the end of quality passes rather than play them himself and is fit and hard-working enough to do these consistently.

It must be noted in the analysis above that Jesse Lingard and Andreas Perriera rank in the bottom 2 for most of these stats unless explicitly mentioned, highlighting why Ole considers them lowest in the pecking order and possibly surplus to requirements with the arrival of Donny. 
Midfield combinations

Before understanding where VDB can fit, let's first understand what he is fitting into. Ole has deployed a 4-2-3-1 throughout the 19/20 season with the only variations being in him playing a counter-attacking style in the first half of the season and a possession-based style in the second half. The only times he played a back 5 were in big games to play on the counter which worked pre-lockdown but failed in the FA cup semi-final against Chelsea. The chances of a diamond formation also seem low given the fact that Ole has played it only once in his caretaker stint. A diamond requires 2 attacking wingbacks and 2 aggressive shuttlers ahead of a defensive midfielder to work. The one time Ole played it was more of a defensive ploy with Herrera and Fred as the shuttlers and Matic as defensive midfielder. The chances of a diamond with the current setup seem low. Coupled with Ole's clear attraction to wingers, Greenwood's rise and the Sancho pursuit, it's safe to say Ole's ideal blueprint is a variant of 4-2-3-1.

Next it's important to understand that in the 4-2-3-1, Ole does have a clear differentiation between the 2 midfielders in the pivot. There's one player who drops deeper between the CBs to pick up the ball during the build-up phase and playmakes from the defensive midfield zones while the other is more of a ball-carrier who keeps trying to move closer to the most advanced attacking midfielder and focuses on linking defence to attack. For this discussion let's name the 3 roles as the deep-lying-playmaker (DLP), box-to-box midfielder (B2B) and attacking midfielder (AM).

Let's see which players have played in the 3 roles over the course of the 19/20 season.
When Pogba and Scott played at the start of the season Pogba was dropping deeper allowing Scott to move ahead. Pogba was the DLP and Scott the B2B while Andreas and Jesse rotated for the AM role. 
When Scott and Fred played during the rest of the first half of the season, Fred was the DLP. United didn't build up much and played on the counter so both seemed almost balanced in a double pivot but Fred was comparatively deeper. 
In the second half of the season when Matic and Pogba played, Matic was the clear DLP dropping and maintaining a very defensive minded position, allowing the B2B Pogba to join the AM Bruno almost creating 4-1-4-1 shape in attack against weaker oppositions. 
Towards the Europa knockouts in the end we again noticed Fred playing the DLP role and Pogba B2B with Bruno AM.
Given all these combinations, Ole's pecking order equation seems to be
DLP: Matic>Fred>Pogba
B2B: Pogba>Scott>Fred
AM: Bruno>Jesse/Andreas/Mata

Ole has never played Scott as the DLP. Even when paired with Pogba, Scott never dropped deep and was always maintaining a B2B movement on the pitch. This goes in line with his youth days where he has always played as an AM or B2B as well. There is a good case to be made that Ole doesn't see Scott as a DLP even if his Matic comparison comments may have made many fans think so. Lingard and Perreira are clear backups to Bruno and the choice for who comes next might get solved with their transfer scenarios this summer, while Mata also remains an option for AM.
From all that we have seen and analysed of Donny Van De Beek, we can take a shot at guessing where he might fit in this equation.
DLP: Matic>Fred>Pogba
B2B: Pogba>VDB>Scott>Fred

AM: Bruno>VDB>Jesse/Andreas/Mata
It's a safe assumption that VDB will not affect the DLP equation. He has never played that role and does not have the traits to nail it. He should easily slot in as the next best options for both B2B and AM roles after Pogba and Bruno. This now brings to the fore 3 clear combinations in which Ole can lineup this season:

1. Matic (DLP) + Pogba (B2B) + Bruno (AM)
Simply lining up the first choices of our equation we come up with the impressive trio that bossed many games post-lockdown during the red devils' outstanding run to clinch 3rd finish in the league last season.

Pros:
1. Heavy possession game that sees the best of Pogba and Bruno in terms of chance creation and Matic in terms of ball retention and build-up. This is ideal for breaking down low-block teams that cede possession.
2. VDB coming off the bench as a great quality option if the plan A doesn't work out, which was something United lacked in their season-end run
Cons:
1. Matic's age makes him susceptible to pressing. Southampton gave him a hard time and mitigated United's possession game, while Aston Villa also troubled him for a while before they were scored against. This led to Matic being rightfully dropped against the press-hungry Sevilla in the Europa league.

2. Fred (DLP) + Pogba (B2B) + Bruno (AM) 
We explore the next-best DLP option paired with best options for the other 2 roles

Pros:
1. Good counter-press value with Fred's ball-winning and pressing a huge trait. He bossed the midfield against a press-heavy Sevilla. This would be Ideal for games on the counter against the Premier league top 4 and Champions League knockouts.
2. Again, VDB coming off the bench as a plan B
Cons:
1. Fred's build-up and possession traits aren't impressive. His passing range and creativity is average making it tough to dominate possession and create chances. Against low block teams this becomes a big negative as displayed often in the first half of the season.

3. Pogba (DLP) + VDB (B2B) + Bruno (AM) 
We round off with a slightly left-field but not entirely improbable midfield combination, given it presents a chance to field the 3 most attacking midfielders United have.

Pros:
1. Creativity and attacking movement can be expected to be highest with all 3 players boasting goal and assist threat. Can be experimented against weaker Premier League teams to start with.
2. A potential elite team 4-1-4-1 attack which United have been craving for for ages
Cons:
1. Pogba as a DLP isn't super convincing. He lost the ball a few times during building from the back last season and isn't a natural defensive midfielder. In getting the best out of VDB and Bruno, Pogba's best role as a B2B suffers.

There is also a good case of switching the B2B and AM roles in this combination to allow Donny to be further ahead which has hinted at when he was brought on while chasing the game during the 20/21 league opener against Crystal Palace.

While the chances of a formation other than 4-2-3-1 are low but not zero and incoming or outgoing transfers can still change these equations before the window ends, these 3 combinations seem the most likely options Ole would be considering. It will be really interesting to see which combination the Norwegian opts for over the course of the 20/21 season.