In Football, whenever an exciting young talent bursts onto the scene and starts performing well beyond something that is expected of their age, a lot of headlines are made. Everyone's talking about that player and how he has bags of potential and how his game will improve over the years and how his peak years are yet to come, etc. Wayne Rooney, when he first 'burst onto the scene' is probably the best example of this. In more recent years, Kylian Mbappe, Raheem Sterling, Marcus Rashford, Ousmane Dembele have all made their mark on the big stage. This season was no different with us being introduced to diamonds like Erling Haaland, Phil Foden, Eduardo Camavinga and of course, Mason Greenwood. 
In this piece, we'll talk about Mason Greenwood's abilities and what makes him so special.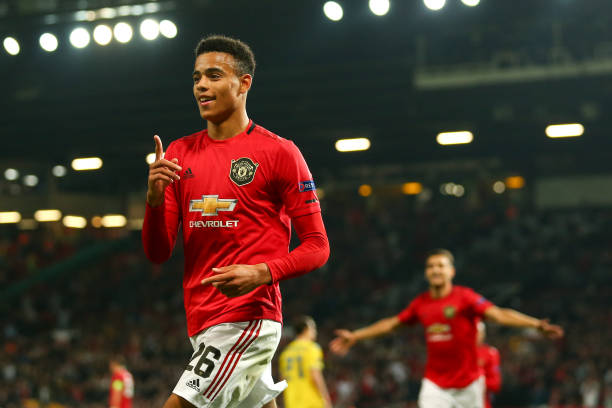 What does it mean to be a wonderkid?
But firstly, when someone says this player is a wonderkid or has "bags of potential", what do they mean by that? Well, to understand, we can talk about the example of one of the greatest players to have ever played – Cristiano Ronaldo. Ronaldo first "burst onto the scene" playing for Sporting Lisbon in a friendly against Manchester United and he left everyone on the away bench in awe. "Boss, he's some player, that guy" were the words Ferguson kept hearing from the bench as Ronaldo showcased his skills and continued giving John O'Shea a torrid time at right back. Sir Alex Ferguson decided in the half time that they're not leaving Lisbon until they've signed Cristiano Ronaldo and the rest, as they say, is history.
Although, the then coach Rene Muelensteen tells an interesting story of how Cristiano Ronaldo went from a tricky teenager to an absolute goal machine. 
"With Mick [Phelan] and Carlos we set about the process of making him aware about his position and making him understand what to do in different positions. We did a lot of work on finishing from different angles. I had a format where I divided the penalty area into zones and you think about what to do in each of the different zones – lace kick, chip, inside foot, one touch or two, do you move into a different zone and so on. Then you break down the key elements of what makes a good finish. So now he's aware of position, the type of ball coming in, how he's going to receive it and the type of finish"
Ronaldo had given himself a target of 23 goals that season, Mulensteen upped it to 40. He ended up scoring 42. Ronaldo went from a flashy, tricky youngster to a matured, prolific goalscorer by training and changing different aspects of his game. 
Sir Alex Ferguson wrote in his autobiography that Ronaldo was a bit too flashy for his liking when he came in. He always wanted to go for the spectacular like a mesmerizing piece of skill to beat his defender or a 25 yard top corner goal. Ferguson and Muelensteen worked hard to get the prolific side out of Ronaldo and improve his game for the better. 
This is what people usually mean when they say "bags of potential". A player can be technically gifted in some aspects at 18 years old where most players cannot reach the same level in their whole careers. What matters is that with good coaching and hardwork, the player is able to use those abilities to his best ability and consistently over the course of his whole career. 
What makes Greenwood a wonderkid? 
Now, let's have a look at the season that Mason Greenwood has had.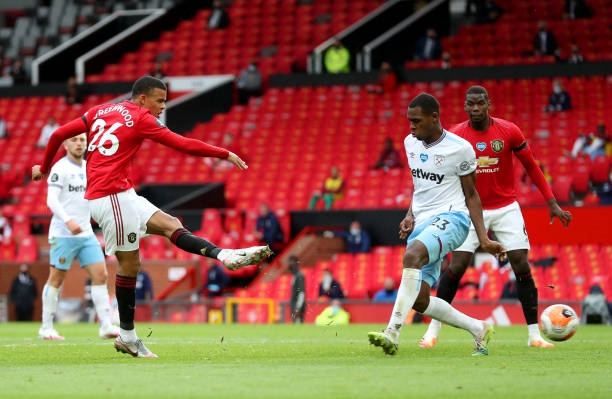 While the Englishman played a few matches towards the end of the 18/19 season, the 19/20 season should be labelled as his 'breakthrough season'. Greenwood scored 17 goals across all competitions last season, 10 of them being in the Premier League. The 18 year old's 17 goals last season are the most any teenager has ever scored for Manchester United in a single season, tied with George Best (1965/66), Brian Kidd (1967/68) and Wayne Rooney (2004/05). Not a bad company to be in. 
Those who have followed Greenwood ever since his u18s days would hardly be surprised at the numbers he has produced at senior football level. The Englishman scored 31 goals in 30 games at the u18s level and added a further 9 assists to his tally, playing at that level when only 15 years old. His consistently good performances and staggering numbers meant it was only a matter of when and not if he was going to shine at the senior level. 
Style of play wise, you cannot find many weaknesses in Greenwood's game. His dribbling is good, his passing is top notch, he is blessed with lots of pace and also good strength but his ultimate strength is his finishing. Greenwood has outperformed his xG number by 6.3, only Arsenal ace Pierre Emerick Aubameyang has bettered him in that aspect. Mason Greenwood has an xG of 3.7 which means that looking at the shots he has taken and the position in which he is taking those shots offer a low probability of those shots actually nestling into the back of the goal. Yet, the Englishman has managed to find the back of the net. 
In this image, you could see Greenwood being surrounded by Brighton players and the keeper Matt Ryan also having good positioning to stop any shot that may come in from that side of the pitch. Depending on Greenwood's position and the position of the defenders surrounding him, this particular situation would warrant a very less xG. Yet, Greenwood takes a shot, nutmegging the defender and scoring into the bottom right corner.
Again, in this situation, statistically, the xG would come quite low as he is surrounded by Everton defenders and is outside the box. Goalkeeper Jordan Pickford has also got his positioning spot on. Greenwood, expertly finds a gap between the defenders and beats Jordan Pickford to slot it home into the bottom right corner, which is kind of becoming a trademark finish for the young sensation. 
His two-footedness also gives him an unique advantage in 1v1 situations against the defenders. He has completed 68% of his dribbles in the Premier League indicates that he is good with the ball at his feet and he is good at taking on defenders. He can either go onto his left foot or his right which makes it very hard for a defender to predict where he is going to go in a 1v1 situation. 
Greenwood, one could say, comes under the 'technically gifted' category. His passing is good, his dribbling is good, he can beat a defender and most importantly, he can finish brilliantly well. So, where does he go from here? How would he improve and really take his game to the next level?
What does the future hold for Greenwood?  
Overshooting his xG is only one side of the coin which shows he has exceptional finishing. The other being, he isn't getting enough chances in order to score more goals which points to a little weakness he still has in his game – his movement. 
Robert Lewandowski, Mohamed Salah, Kylian Mbappe are some of the best goal scorers in Europe currently but along with their goal scoring, these guys also have something in common – the amount of goals they miss. Salah amassed a record breaking 32 goals in the 2017/18 Premier League season but was also leading the charts for the most clear cut chances missed. Mbappe won the golden boot in the Ligue 1 last season and Lewandowski was arguably the best striker in Europe last season, but they both missed the most clear cut chances in Europe last season. 
These stats show that all the top strikers in the world get a lot of chances to score which can indicate the world class off the ball movement that they have. Due to having such good movement, Lewandowski, Mbappe and Salah are able to get into better positions and create a lot of chances for themselves by popping up in these goal scoring situations. Greenwood's high exceeding of xG proves that he lacks in this regard. 
Arsene Wenger, widely regarded as the professor of football, once said that developing a young player is like building a house. You start with the technical abilities when the player is 14 years old. Then comes the physical aspect of a player till he's around 17 years old. Then comes the tactical aspect when he's around 18 or 19 years old. Greenwood is now 19 years old and there is still a lot of time for him to improve this aspect of his game. 
For large parts, Greenwood's transition into the first team has been absolutely exceptional and it's a testament to how well Ole Gunnar Solskjaer has managed it. Greenwood didn't play much in the league during the first part of the season even though Manchester United were struggling with a lot of injuries. Most of his appearances came either from the bench in the Premier League or in the cup competitions. As the season went on, Greenwood started to get more and more minutes in the Premier League and since the restart last season, he's been the first choice Right sided forward. 
This allowed Solskjaer to keep the Englishman away from the pressure to succeed and let him freely express himself whenever he's on the field. As soon as Greenwood looked confident on the ball in the Premier League or playing with the first team, he's been the manager's go to choice for the Right Winger spot. The youngster repaid his manager's faith by putting in stellar performances in the league since the restart last season which also earned him his first England call up. 
There is a general consensus building around that if Mason Greenwood gets one chance to score a goal, he'll bury it. But the downside is that he probably gets only one clear cut chance per match. But, now is the time when we can potentially see his game go to the next level as he slowly, but surely learns the tactical aspects of the game.  Having said that, 17 goals in his debut full season is extremely good. All in all it's safe to say that Mason Greenwood is just getting started.