Now that the international transfer deadline is in the past and the International break is also over, club football will finally resume. It has been a frustrating window for Manchester United and their fans, with the usual social media frenzy over the first-choice transfer targets not arriving at the club. The club being involved in some 'Deadline Day Drama' has resulted in the signature of 2 Uruguayans. One is known to be one of the best strikers of the 2010s- Edison Cavani. But it is the 2nd Uruguayan who has the potential to become a world beater, if groomed well- Facundo Pellistri. Manchester United moved in to trigger the release clause of the 18-year old winger who had just broken into the first team of Penarol, after reaching a stalemate with Borussia Dortmund for Jadon Sancho over transfer fees. With the English club devoid of any ambition to make such a hefty investment on a single player they turned to Uruguay in order to secure the services of the talented youngster, beating French giants Olympique Lyonnias who had also triggered his 10 million euros Release Clause. 
Career History:
Before jumping straight into his detailed data driven analysis, a short glimpse at his playing style is required which can help Manchester United both in the short and long run. The 5'9" right winger started his footballing journey at La Picada then moving to River Plate Montevideo before being snapped up by Penarol in 2014. He spent 5 years in the Penarol Academy before making his debut for team on 11 August 2019 in a 2-2 draw against Defensor Sporting. He has Spanish and Italian ancestry and holds a Spanish Passport which made his transfer to Manchester United on deadline day (5th October, 2020)- a hassle free one; devoid of any work permit issues- which is a big issue from player registration point of view in England, due to which the influx of Non-EU players in England is decreasing year by year.
Playing style:
A winger by trade, Facundo is praised (especially by Uruguayan legend and Former Manchester United player Diego Forlan) a lot by for his agility, technique, and strategic vision to pick players by delivering line-breaking passes and defence splitting crosses to a 'Poacher'/'Target Man' in the box. His game is more of a natural winger as compared to modern day 'inverted wingers' or 'inside forwards'. This particular trait can help Manchester United a lot in the long run- with Aaron Wan-Bissaka's overlapping runs and attacking play being not so good, Pellistri's ability to hug the touchline can provide the team with much needed width and space for midfielders like Bruno Fernandes and Donny Van De Beek to exploit this created 'space' and do their work more easily. His defensive work-rate and positioning is also good which can help the team in defensive phase and provide with much needed defensive cover from flanks.  
Coming to the topic of data-driven analysis, due credits to Wyscout and Twitter Users: @Ninad_B06 and @Statmanscouts for much needed raw data.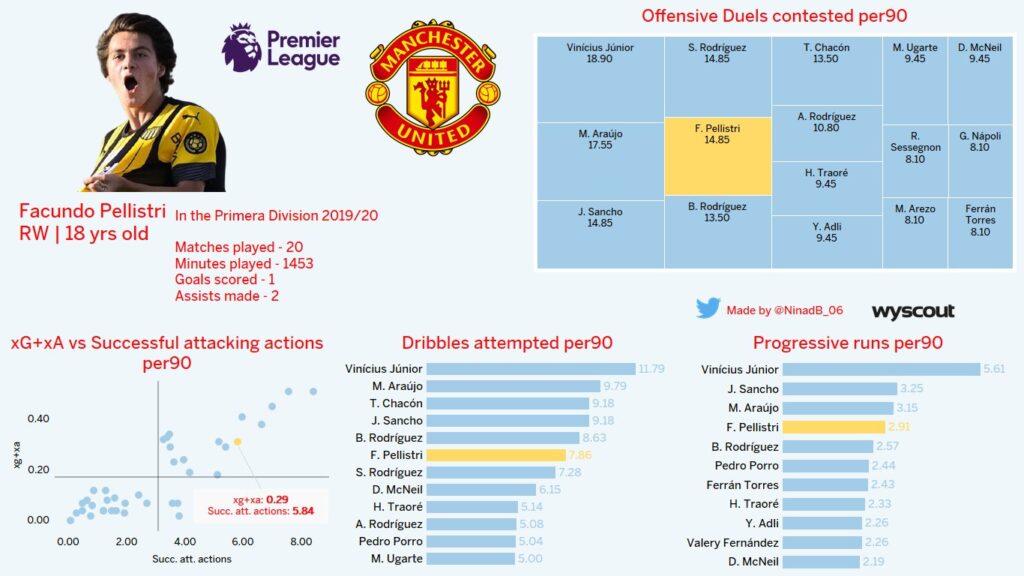 Despite a poor "G+A count"- 1G, 2A (main reason being a backup/rotation purpose player and seeing out later minutes of the match on many instances), his underlying numbers are very good for an 18-year old teenager. His ability to dribble and create is perfectly clear in above 'data visualization'. Facundo has accumulated 1453 minutes in 20 appearances for Penarol, so the scope of comparison is U20 wingers who have amassed 900+ minutes- both in his native Uruguay and Top 5 leagues in Europe. He has attempted 7.86 dribbles per 90 minutes with 14.85 'offensive duels' (take-ons, dribbles completed) per 90 minutes out of which he has 5.84 'successful attacking actions'. Facundo has good ability on the ball which is shown by his 2.91 progressive runs per 90 minutes, meaning he can be a good asset for any team which relies on a mix of possession based and counter attacking system- which Ole Gunnar Solskjaer is trying to implement at Manchester United, a player being good both on and off the ball, helping in fluid transitions from Defence to Attack and vice-versa.
What's next:
With Facundo given the #28 jersey and registered for PL and UCL, he will be used sporadically in the team from the looks of it. It is a signing meant for the future, so immediate fireworks shouldn't be expected. Signs of exploding fireworks are there, with the above data driven analysis but in order to reach that, the player has to be eased into the squad slowly and gradually given the challenge to improve. In order to maximize the potential of the player, a mix of player ability, right system, right coaching and right atmosphere for youth development is needed. All of these aspects are there at Manchester United, just the right amalgam of all ingredients is needed. If this right amalgam is not found, everyone will suffer but it will be the player who will suffer the most. This is the most important factor which has to be emphasized on when making such 'long-term future' signings.