It has been an exciting summer for anyone following Manchester United's youth additions. A handful of players in the age group of 15 to 18 years were drafted in during the summer transfer window strengthening the club's academy, being led by Nicky Butt, and youth policy, being championed by Ole Gunnar Solskjaer. But, even the top brass might not have expected that one of the youth signings would settle in so well that talks of a professional contract would begin within 3 months. 16 year old Joe Hugill now has 5 goals in 4 starts and 1 substitute appearance for the United U18s and U23s. Rumours were afloat this week that Joe Hugill is expected to sign a professional contract with Manchester United until 2023. Let's try to find out what all the hype is about.

Career history:
Born in Durham on October 19, 2003, Hugill has spent the entirety of his youth career at his boyhood club Sunderland and is considered one of their most promising youngsters. Sunderland's 'Academy of Light' is considered among the best youth facilities in the country boasting past wonderkids of the likes of Jordan Pickford, Josh Maja and Conor Hourihane, but their record at U23 and U18 level was woeful last season. They failed to win a single game at U18 level. Despite their poor form, Hugill was a consistent goal scorer for the side. There's one thing that Hugill guarantees, and that is goals. He bagged a hat-trick for Sunderland's U18 side in an FA Youth Cup tie against Shrewsbury in November and it was no surprise to see him promoted to the U23 side, having consistently found the net at U18 level. After being promoted, Hugill bagged a brace in his Premier League 2 debut against West Ham which seemingly alerted many Premier League scouts to his potential.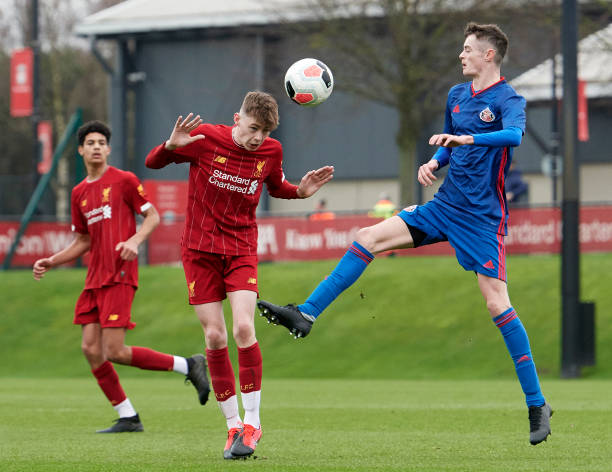 Playing Style:
One of the reasons Hugill was able to slot into the U23 side so comfortably is his physical attributes. Standing at 6'2″ Hugill has an obvious height advantage against most players in his age group and therefore poses a tangible aerial threat to defenders he comes up against. Strikers of a larger build are often (unfairly) criticised for their perceived lack of technical skills or pace. But the Sunderland prospect is blessed with a strong dominant left foot, a delicate first touch and the technical finesse to finish with either foot. Many have likened Hugill to former Three Lions striker Peter Crouch because of these similarities. The standout attributes of Joe's game are his calmness in front of goal, intelligent runs behind the defense and his physicality which he uses to hold off defenders. The youngster showcased these traits with a superb run and lob against the Hammers last season in the FA youth cup brace. A coach who has worked closely with Hugill is Sunderland U23s manager Elliott Dickman – "If he keeps doing what he is doing, he will definitely get a taste of U23s football again. But at the same time, we have to make sure we look after Joe. We can't push him too quickly, but the signs are there that he has good potential."

It should also be noted that Hugill possesses some very desirable mental attributes for a finisher. He is composed, patient and hard-working enough to remain a constant threat in a game and take his chance whenever it arrives. This has contributed to him scoring almost whenever deployed, no matter what the age level or opposition level. In a nutshell, here's a tall, strong, consistent striker who possesses fine technique and seems to guarantee goals whenever given a chance – what's there not to get hyped about?

Transfer Saga:
Ole Gunnar Solskjaer, Nicky Butt and Michael Carrick had seen Hugill in action while watching Man United's U18s take on Sunderland last year. The image below which has made the rounds on social media and is often used while talking about the youth recruitment drive, is actually a snapshot of the trio admiring Joe Hugill last season. Hugill had reportedly attracted interest from Arsenal, Tottenham, Wolves and Leeds following his goal-scoring spree but Manchester United closed in aggressively to seal a deal worth £300,000 for the summer.



Current season:
Upon signing, Hugill was fast-tracked into United's U23 squad and needed just two minutes to make his mark with a clinical finish on his first league start against Blackburn. And he wasn't done there; with Rovers four minutes away from victory after fighting back to take the lead, Hugill applied the finishing touch to a swift counter to rescue a point. Hugill's instant impact in the U18 and U23 ranks at Manchester United earned a first international call-up, with the striker joining Kevin Betsy's England U18 squad for training at St. George's Park during the international break. The up-and-coming striker was on target for United in their Under-21 side's EFL Trophy penalty shootout win against Rochdale. A dearth of reserve-level forwards is rumoured to have led Neil Wood to add Hugill to his Under-23 squad. As expected, Hugill was unfazed with the step up and was back among the goals for the U23s with a strike in Saturday's thrilling 3-3 with Arsenal's U23s. At the moment, if Hugill has a problem, it's that he just can't stop scoring.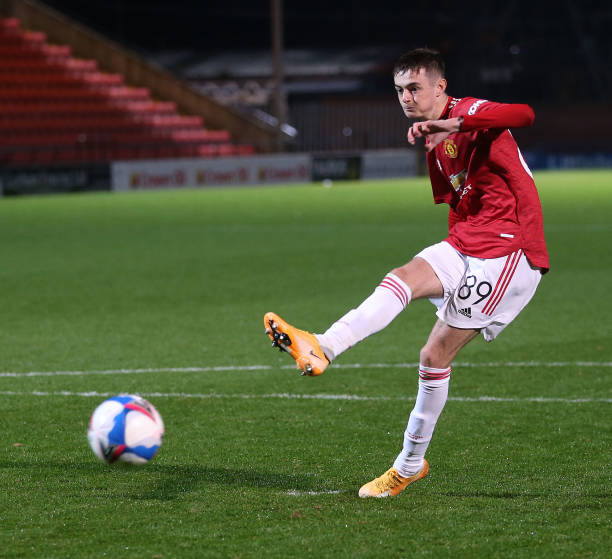 What next:
Joe Hugill's progress has come as a pleasant surprise to the coaching staff at Manchester United who recognised his potential when they brought him in from Sunderland. But the speed of that progress has exceeded expectations, bearing in mind he's only been at the club for three months. The Durham-born youngster celebrated his 17th birthday on Monday, making it possible for the club to trigger the professional contract that was part of his £300,000 transfer from Sunderland in the summer, as per reports. The teenager will probably play most of his football this season with the U18s as the Academy coaches aim to nurture him further and work on his physical development. But given his uncanny knack to always deliver when given a chance it may not be that long before he is given a shot in a senior team game. United are in search of a tall, strong and clinical poacher-styled attacker which is evident with Ole's Erling Haaland chase last season and this summer's Edinson Cavani acquisition. If Hugill's rapid development continues, he might just be the one knocking on the door to fill that slot once the Uruguayan is done.