Continuing with our wonderkid scout report series, the next player under the scanner is the one the Red Devils must be most excited about among the young signings. Bought from 'La Dea'- Atalanta for an initial 21 million euros with a further 20 million in add ons – subject to medical and work permit, the transfer will be completed in the winter window (January 1, 2021- January 31st, 2021) once all the formalities are finished and paperwork is finalized. Yes, the player is Amad Diallo Toure – younger brother of De Zerbi led Sassuolo's rising sensation Hamed Traore. This particular transfer has sent some shockwaves in the fanbase, as many are confused as to why the club has spent such a premium amount of money on a 'foreign' youngster who has just 120 minutes of action at senior level for the Bergamo based side. But those who have followed his journey right from the youth levels to him knocking down on the gate of the senior side, know how talented he is. Before jumping into the analysis of his game, a small glimpse on his journey till now is needed, showcasing how he can be a good 'cultural fit' at any club.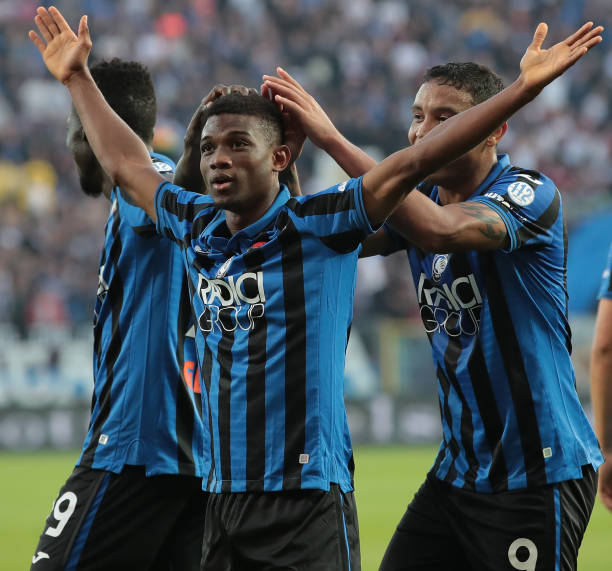 Career History
Born in Abidjan, Amad's family moved to Italy when he was very young. He and his brother, Hamed, both started playing football at a young age; playing for local youth sides in Italy. He joined the youth team of Boca Barco, starting out in Giovanissimi Regionali i.e Under-14 championship in 2014. He impressed a lot of Serie A clubs with his dazzling displays which made him top scorer of the tournament. Ultimately, he ended up at one of the best academies in Italy, and the world – Atalanta Primavera. The youngster initially started out at Giovanissimi Regionali for Atalanta in 2015, but soon found himself on the fringes of the U19 team in a few months before switching back to U14 level. During this transition to the U19s, the winger scored a world class goal against Atalanta's historic rivals, AS Roma, in the final eight and ended up winning a Scudetto.
During the 2016–17 season, he played for the U15 side before moving to the U17 side in the following season where he scored 12 goals in 27 appearances. In 2018–19, Traoré scored 12 goals and made 7 assists in 16 U17 games, and 6 goals and 6 assists in 26 Primavera games. He won the Campionato Primavera 1 with Atalanta during that season.
At the start of the 2019–20 season, Traoré won the 2019 Supercoppa Primavera, providing two assists in a 2–1 win over Fiorentina. He scored six goals and made six assists in 25 league games, helping Atalanta win the Campionato Primavera 1 for a second successive season. His performances and growth as a player earned him a first team debut against Udinese on 27 October, 2019 in which he scored just 4 minutes after coming on as a 79th minute substitute. He became the first player born in 2002 to score a goal in Italy's top division, resulting in a 7-1 home win for Rossoblu. His first UEFA Champions League game call-up came on 11 December 2019, sitting on the bench in a 3–0 away win against Shakhtar Donetsk. Praised by Atalanta's captain- Alejandro "Papu" Gomez himself for being 'THE BEST' prospect to come out of the Lombardia based club.
Playing Style
A winger by trade, Amad is an ambidextrous footballer. His primary position is of a right winger where he has played for most of his youth career. He can also slot into the midfield if needed, equally capable of playing in the 'half wing' spaces (a 'Mezzala' in Italian). His ambidextrous nature and technical ability make him a versatile player. He gets involved in the build-up, equally taking part in creating the game and also trying to end into goal scoring position to finish the chances. He is more of an 'inverted winger'- trying to cut-in and look for an opportunity to pass rather than just taking a shot. Due to his agility and good ability on the ball, he is adept at dribbling in close spaces, making progressive runs with the ball into the final third with ease.
Tactical Analysis
Credits to MRKT Insights (@insightMrkt on Twitter) for the raw data available from Amad Traore's 2019-20 season with Atalanta Primavera.
In terms of attacking play, Amad has averaged 6.6 dribbles/90 mins, with a success rate of 58% – quite good for a player with raw potential. A 64th percentile on Goal Build-Up with a non-penalty expected goal + expected assist count of 0.89 make him a deadly asset from open play. In terms of passing and creativity, the teenager averages 3.82 progressive runs into the final third per 90 mins. He also plays 0.64 successful through passes and 3.26 successful passes inside the penalty area with a passing accuracy of 85.92%. In terms of defending, the Ivorian contests for 0.8 Aerial Duels per 90 mins along with 7.23 defensive duels per 90 mins. He can put in a good shift in defence if needed for more defensive stability in the team. With such brilliant 'underlying' numbers at youth level, this exciting prospect is justifying his potential. Given his playing style, he has the ability to finish a lot of problems this Manchester United side face, both in the attacking and defending phases. Manchester United's inability to exploit spaces in both the right flank and the 'half wing' spaces on the right side of the pitch makes them devoid of creativity from this side of the pitch, overloading the left flank which has made their attacking game very predictable. They have suffered due to this inconsistency in terms of results – especially against minnows. Traore's ability to make goal-creating actions with his technical ability can provide the Red Devils with a fresh injection of 'creativity' on that right flank, may it be in the form of a winger starting in Ole Gunnar Solskjaer's preferred 4-2-3-1 or even playing as the most advanced midfielder in a 3-man midfield setup, occupying the 'half wing' spaces. His defensive work rate can also provide extra stability to the right backs.
What Next
It takes a lot of things to amplify this output at senior level. Instant 'fireworks' shouldn't be expected given he is a youngster with almost ZERO experience at senior level, coming to a new country, new culture and new league. He has to be eased into the team and given challenges to improve himself gradually. A right amalgam of playing time, coaching and management can amplify his potential and cut the rough edges around this 'diamond' who has the ability to replicate the creative numbers of the best U21 player in the world (the one Manchester United missed out on due to their indecisive nature) – Jadon Sancho. This is a signing intended for the future but work on making this 'future' a bright one needs to be done in the 'present'.