It is April 2018. Manchester United have beaten Manchester City at the City of Manchester Stadium after coming back from 2-0 down at half time to win 2-3. With this result, they have delayed the title celebrations of their cross-town rivals. Next up is West Bromwich Albion at Old Trafford. Already relegated, the Midlands team came for this fixture with least expectation. Fans and tourists are framing their best possible shot of the Sir Matt Busby statue. Others are drawn to the Trinity statue. A group of French teenagers from Les Ulis, a semi-professional team 24 kilometres south-west of Paris, gawp in awe at Best, Law and Charlton. One of them tells a teammate that one day he will return to play for United.
Fast forward to October 2020, the youngster has fulfilled his promise. Willy Kambwala joined Manchester United from Ligue 2 side FC Sochaux-Montbeliard in a deal worth 4 million euros. The 16-year old played for the Montbeliard based club, joining their U17 ranks in 2015 and rising to U19 level in his 2 year stay at the club. 
Player Profile
Born in Kinshasa, DR Congo; the 2004-born Willy moved to France with his parents at a young and started playing for the local clubs once his family settled down in France. His first football club was Elan Chevilly Larue where he played for 1 year before moving to Paris based academy of Les Ulis which is famous for seeing the rise of Patrice Evra and Anthony Martial. He was snapped up by the Ligue 2 side in 2018 which historically has been one of the best footballing academies in France and has seen the rise of Jeremy Menez, Ivan Perisic, Miranda, Marcus Thuram, Ibrahim Konate, Jerome Onguene in recent years. He joined the club's U-17 but a good start to his career at the club saw him rise to U-19 level and this period also coincided with his breakthrough at International Level, captaining the Les Bleues U-17 side on multiple occasions.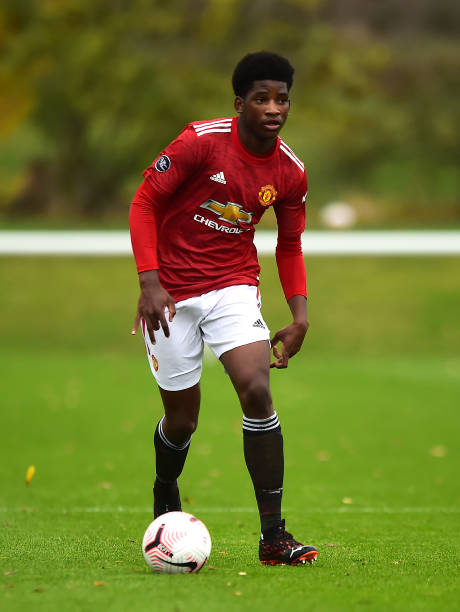 A Center Back by trade, Willy is comfortable playing at either side of the defence and he has also played as a defensive midfielder on multiple occasions. The 16-year old, 6'3" center back is a set piece threat, capable of progressing the ball into the midfield. Fast off the ball and good positioning which sees him commit less into the last-ditch tackles, Manchester United may have just found a player like Dayot Upamecano, who they missed out on in 2015. The French youngster impressed the coaches with his U18 debut against Derby County. Talks of promotion to U23 are already aloof and a potential 'fast-track' plan to first team also in action in a few years if his development accelerates at a fast rate. Les Ulis had another rough diamond who was polished in Manchester in Patrice Evra. Tshimen Buhanga who trained Anthony Martial and Patrice Evra at Les Ulis has been praised the youngster for his hard-working ethic. "Willy is a well-educated, polite, helpful, serious and a competitive boy on the field, smiling outside. Of all the boys I have coached, Willy is the one who made the best impression on me from a character standpoint. I call him 'Captain', even when I have him on the phone. If he perfectly follows in Patrice Evra's footsteps, you will have to say 'Captain'."