While the arrival of Donny van de Beek, Edinson Cavani and Amad Diallo Traore caused a considerable stir, it is Manchester United's youth recruitment drive that has grabbed the headlines on multiple occasions this summer. With almost a dozen youth signings to boast of, the acquisition of winger Alejandro Garnacho Ferreyra from Atletico Madrid represents United's third successive raid on the Spanish market this window following the capture of teenagers Marc Jurado from Barcelona and Alvaro Fernandez from Real Madrid. We take a look at the highly-rated Spanish winger in the latest of our wonderkid scout series.
Career History

Born in Getafe in July 2004, Alejandro Garnacho is one of Atletico Madrid's most highly-rated prospects. He has been with Atletico since 2015, and is said to be the 'jewel' of the club's academy. Described as a 'goalscoring machine' by Marca, from a very young age itself, Garnacho's potential has seen him primed for the top. In 2016, whilst playing for Atletico's Infantil B, he was Spain's top scorer at the age of 12 – destroying opposition defences with his natural knack for finding the back of the net. In the 19/20 season, he found himself enjoying run-outs for Atletico's U19 team despite only being 16 years old.

Playing Style

Alejandro is obsessed with Cristiano Ronaldo, and even wears the same shirt number – No. 7. The comparisons do not end there either with Garnacho's playing style and movement closely related to Cristiano Ronaldo as well. Garnacho is predominantly a right-footed winger who plays on the left wing, but is comfortable on his left foot as well, allowing him that versatility when one-on-one with the goalkeeper. While he prefers attacking from the left, he is equally adept at playing as a striker, behind the striker and on the right wing. Blessed with a flawless technique, Garnacho boasts attributes including close ball control that make it difficult for defenders to rob the ball off him. The Madrid-born teenager is technically gifted and has superb dribbling ability, making him a nightmare to defend against when he's running at opposition's backlines.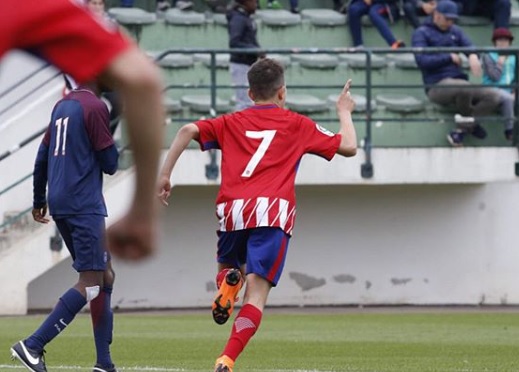 While he is able to use his quick feet to beat defenders and round goalkeepers with ease, the teenager also has the knack of finding himself in the right spot at the right time, always hungry to pick up the scraps in front of goal. In the penalty area he's intuitive and clinical, preferring to shift the ball onto his right foot before calmly slotting the ball home. A real predator in front of goal, Garnacho is also adept at finding space in the penalty box, and is an instinctive poacher.

Most of Garnacho's goals are textbook modern winger executions cutting in from either wing and blasting or placing his shot in a corner of the goal with his opposite foot. He also has a remarkable rate of dribbling around the goalkeeper and finishing when one-on-one showcasing his confidence, composure and dribbling ability. Any game watching Alejandro isn't complete without bearing witness to some stepovers, nutmegs, drag-backs, double touches and body feints as the wonderkid loves taking on and often humiliating his defensive counterpart while also dribbling with purpose towards goal. Like his idol, he loves putting on a show. The major weaknesses one can identify in Garnacho's game are natural for a player with such flair and attacking purpose. His defensive contributions like tracking back and positioning need work but that is to be expected from a 16-year-old winger who has all the time in the world to work on them and challenge for a first team spot. 
Transfer Saga & Settling in
Garnacho turned 16 in July 2020, which meant he was able to discuss deals with other clubs, and it had been widely reported that Atletico did everything they could to keep their star man. The Red Devils are said to have fought off Real Madrid and Borussia Dortmund to secure Garnacho's signature. Moving to Old Trafford, and emulating his hero Ronaldo was said to be a deciding factor in his decision to move. Garnacho penned a five-year deal with the Premier League giants over the summer window. And all it costed United was a compensation package for his training and development.

'Atlético de Madrid have lost a promising youngster after United's great work in Spain, where they have already raided Madrid, Barça and Atleti,' AS lamented. 'Despite this loss, Atlético has always managed to retain great homegrown players who receive offers from foreign teams, who 'take advantage' of the few laws that protect Spanish quarries so as not to lose talents so easily.

After being officially announced by Manchester United on October 2nd, which was a Tuesday, Garacho was named in the matchday squad for the U18 side on the following Saturday itself. The attacker came off the bench on a rain-drenched afternoon at Manchester City's training complex as United took on their neighbours in the U18 derby. It was a real 'welcome to Manchester' moment for the 16-year-old. Garnacho played the final 15 minutes as United chased an equaliser, having gone 2-1 down. He had one chance from a difficult wide position which he struck with power, but it was rising and went over the bar. United lost the game, but Alejandro impressed. He looked confident, cutting in from the left, and the young forward was pleased to get some action in before the break. He sent a message expressing how excited he was to sign for United and make his debut.

Alejandro Garnacho scored two goals in the last week of October for Manchester United's U17 side. The Spanish teenager was part of an U17 side taking on Wigan in the re-formatted Premier League Cup. One of his goals included this thunderbolt of a strike from the edge of the box which left the Latics 'keeper with no chance.United lost the game 3-2, a product of holding many eligible players back for the FA Youth Cup game. Garnacho has made two substitute appearances for the U18s so far. This was his first competitive academy start, and a two-goal return is pretty impressive. Garnacho reportedly started in a closed-door friendly in an attack consisting of Joe Hugill, Charlie McNeill and Hoogewerf against Salford last week which United won 5-2 but reports are still unconfirmed.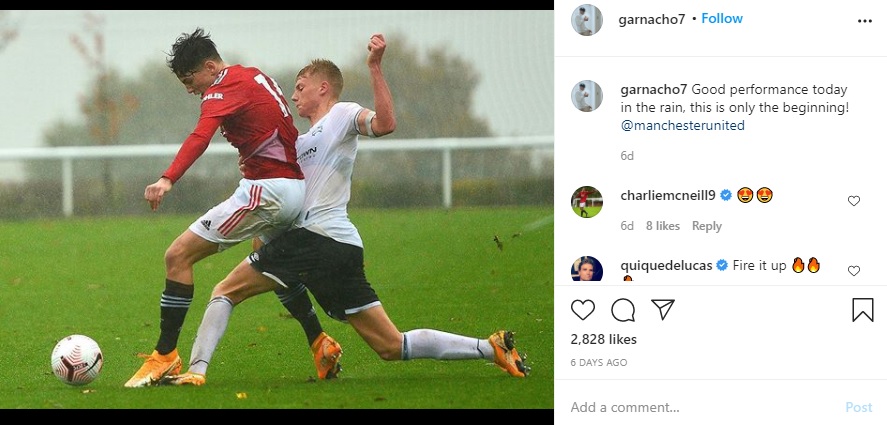 What next

The Spaniard certainly needs more time and experience before making a gradual transition to senior men's football, but his prolific youth record in Spain suggests that he has all the raw materials to evolve into a top-quality striker moving forward. There is plenty of competition in the U18s, with Charlie McNeill and Joe Hugill signing this summer, and Dillon Hoogewerf, Mateo Mejia and Noam Emeran all signing in 2019. With United's first team strikeforce packed with goals too, there is plenty of reason to be optimistic right now about the future. Given the potential of these youngsters and the opportunity and development the Red Devils seem to want to give to their academy players, it wouldn't be a surprise to see a few of these names don the jersey for the main team in a few years time. 

(Image credits: Garnacho's Instagram account – https://www.instagram.com/garnacho7/)