In the summer transfer window of 2020 alone, Manchester United have bought a dozen players under the age of 19 years old while only 3 – Van De Beek, Cavani and Telles – were above that age. This clear shift in focus of United's transfer strategy is nothing short of a youth revolution with the guidance of Nicky Butt. What's even more impressive is nabbing these wonderkids from big clubs like Manchester City's Charlie McNeill, Barcelona's Marc Jurado, Atletico Madrid's Alejandro Garnacho – and today's focus – Real Madrid's Alvaro Fernandez Carreras. We analyse what the gifted left-back brings to the table.
Career History
Alvaro was born on 3rd March, 2003 in Mallorca which makes him 17 years old currently. Having spent his development years at Racing de Ferrol from 2007 to 2012, it was his stint at Deportivo de La Coruna for the following 5 years that caught the eye of the top Spanish clubs. He won numerous trophies and awards in this period like the Galo cup in 2014, but it was his Galician Championship win with Deportivo in 2017 where he caught the eye of many scouts with impressive displays. Carreras' talent was clear to see even at the age of 14, and it wasn't just Real who looked to bring him in from Deportivo at the end of the 16/17 season. Rivals Barcelona were also keen, but Los Blancos were able to convince him to move to the capital instead. Since then, Carreras has played for Real's U15, U16 and U17 sides over three exciting years and was considered one of the most exciting young talents at the club. He was part of a select group of young players that Real Madrid had very high hopes for, alongside Bruno Iglesias and Israel Salazar. One of the major factors that saw Alvaro's development suffer in the 19/20 season was Miguel Gutierrez, who is a left-back like Alvaro, and helped Real Madrid win the UEFA Youth League last season. Miguel was training with Zinedine Zidane's senior Real Madrid team towards the end of last season and has continued to do so this term. With the senior team packed with many good options at left-back and his peer Miguel next-in-line at his age bracket, Alvaro decided his time with Los Blancos was up.
Playing Style
Usually sporting a no. 3 on his back, Fernandez is an attacking left-back who looks to get forward and support attacks whenever possible. Using his speed, he enjoys making dangerous runs down the left wing, adept at linking up well with those ahead of him. But he is equally capable of coming in-field to strengthen numbers in central midfield, capable of moving around and contributing in build-up play. Check out an example here of his ability to drift in midfield and score himself, with technique that would look at home with a pure attacking midfielder. His ability to contribute in different ways going forward makes him a dangerous and unpredictable opponent, while his positional awareness to get back in shape is extremely impressive for someone so young. While Carreras is naturally a very attacking full-back, he is more than capable of being physical on the pitch. Not only is he a threat in the air – thanks to 6' plus athletic and sturdy build – he's also combative in one-on-one situations, and isn't afraid to muscle his opponents off the ball. His reading of the game is impressive too, and these are all qualities that are likely to improve as he gets more match experience under his belt. Alvaro's unpredictable dribbling is intensified thanks to his two-footedness. His attacking awareness, positive movement and technical expertise make him a reliable goal threat like showcased here.
Though he looks eerily similar to Sergio Ramos thanks to his hairstyle and build, there are more similarities between Alvaro and Marcelo in their style of play – particularly when going forward. The Brazilian has built up a reputation over the years as being one of the world's most energetic full-backs, making lung-busting overlapping runs to unlock a defence. On Real Madrid's official website, it is noted that Fernandez's 'reference' is Marcelo – and the teenager plays with a similar intensity and energy as his idol. Defensively, though, he appears to be a little more switched on than Marcelo – who we all know has a tendency to be out of position because he's caught up field. Fernandez stands out from his young peers thanks to his technical qualities, intelligence on the field and difficulty to beat one-on-one. If United are keen on bolstering their squad with a well-rounded left-back, he promises to be a solution in the near future.

Transfer Saga
As one of the most exciting young prospects in Real's academy, it was hardly a surprise that a number of clubs from around Europe began to take notice of Fernandez's contract situation earlier this year. However, AS reported back in May 2020 that it was actually Manchester United and Manchester City who were the most interested in the youngster. They both sent scouts out on numerous occasions to watch Alvaro and were impressed with what they saw. However, it is the red half of Manchester who look to have got the deal done. Real were keen to keep hold of Carreras, but United's 'sports project' is said to have appealed more to him. Fernandez failed to agree contract terms with Los Blancos and became a free agent on June 30, 2020. He issued a statement on Instagram, confirming that he'll be leaving Real Madrid and said that it was not an easy decision. He thanked his coaches who have worked with him over the past three years, mentioned that his stay at Real Madrid made him a better footballer and a better person,and concluded that it was time to say goodbye and take another path in his football career to continue his dream.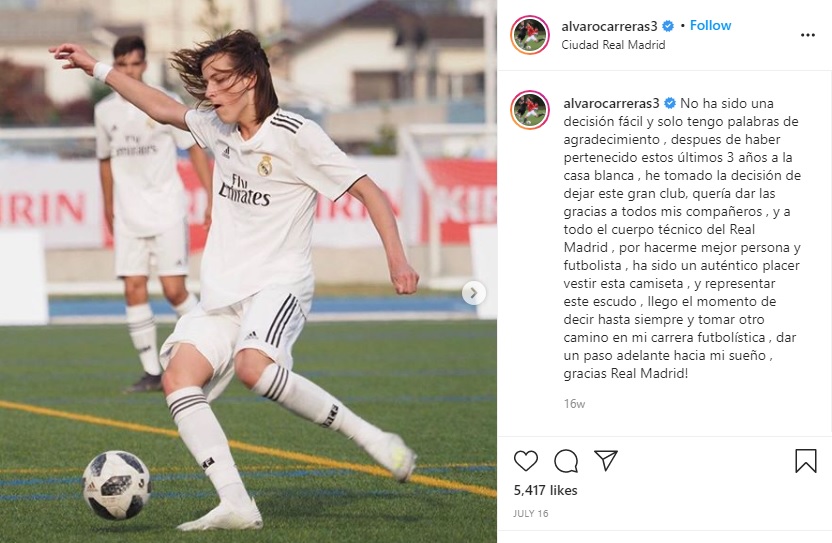 Alvaro is said to have agreed a four-year deal with United and a recent report from AS suggested Real Madrid coaches have expressed regret at Fernandez's exit and feel United have a real talent on their hands. Sources claim: "Alvaro is a footballer with a great future who has been hurt by having Miguel Gutierrez in front of him. But the conditions are there for him to do well in England, and his pace and center of gravity will be admired." It should also be noted that Real Madrid do not have a buyback clause to sign Fernandez in the future, like they tried to inflict on United in the summer when offering Sergio Reguilon.
Settling in & What next
Carreras made his friendly debut for United on Sept 27 for the U23s and had an impressive showing scoring one goal and running the left flank with attacking flair and discipline. His goal was an exciting announcement showcasing what he was all about as he bombed forward to support the attack and opportunistically cut in before blasting in a top-corner shot with his right foot that would make anyone think twice about what his dominant foot actually is. He made his official debut for the U23s on Oct 18th and then played in the U23s win over Everton in the Premier League 2 in the last week of October, showcasing his well-rounded qualities in both games.
Though he has joined the club's youth side initially, Alvaro could be integrated into the first team should injuries strike down the Red Devils' senior options. Compared to his peers, Alvaro's intelligence and defensive stability make him a very attractive proposition to promote to the senior team after a period of settling in. It wouldn't be a stretch to say he could be the closest to a first team opportunity among the 16-17 year olds – like Charlie McNeill, Joe Hugill and Willy Kambwala – that the Devils have signed this summer. The 18 year old prospects, Pellistri and Amad Traore are clearly meant to feature for the first team sooner. But given United's lack of any prospects in Alvaro's position, it won't be a surprise to see the youngster knock on the senior team door soon, if he excels for the U23s this season.
(Image and video credits: Alvaro's Instagram page: https://www.instagram.com/alvarocarreras3 )