One name which has dominated headlines in the last 1 year is that of Jadon Sancho. Everywhere you look, it is all 'Jadon Sancho'- Whether he will move to Manchester United or not, will he cost 100 million euros or more (or less which the chiefs running the football turned American franchise thought before). Even though there has been a verbal agreement of personal terms between the player and buying party, the buying party (in this case Manchester not so United under the current ownership), there has been a haggling over the price from Manchester United's side over the impact of Covid-19 on football finances (but all of that went down the gutter during the unveiling of the European Super League).
Now that the summer of 2020 is past us and 2 years are left on Jadon Sancho's contract, this summer will be the best opportunity for Borussia Dortmund to command a price worthy of the Englishman's talent and experience. Whatever club ends up getting the South London born Jadon will end up with a gem of a player and person which can elevate their attacking unit to new heights. But what will happen to BVB after Sancho's departure? Going by the news in Germany (and adjoining Netherlands), BVB are after yet another Englishman who plies his trade in Eindhoven. In case of Jadon Sancho's potential departure, BVB have their eyes set on PSV Eindhoven's Noni Madueke. In this data driven scout report, a glimpse will be shown at how another Londoner is thriving outside of England and how he can replicate the heights of Jadon Sancho.
Player Background
The 19 year old Noni Madueke plays as a right winger for PSV Eindhoven, led by the German Roger Schmidt. The youngster spent the entirety of his youth career at Tottenham where he led the Under 16 side and also made his debut for the under-18 side as a 15-year-old. After being declared Player of the Tournament at the Sonnenland Cup in Germany in 2017, the youngster started attracting interest from the likes of clubs in England and abroad. However, Madueke decided to make a move to PSV instead where he had a better chance of playing regular first-team football.
Playing Style
Noni is a winger who likes to cut in on his stronger left foot and also use the width of the pitch, in order to stretch out the defense. It is pretty evident given the tactics Roger Schmidt uses, a high octane version of 4-4-2- taking the shape of expansive 4-2-2-2 in attacking phase and reverting to a narrower version of 4-4-2 in defensive phase. Even if he is positioned as a right-sided winger, Madueke prefers moving in a central role since it allows him to see more of the ball whilst also improving his involvement in games. Moreover, the youngster doesn't mind going in the deeper positions where he can be quite effective in helping with the buildup and also being an extra defender when the team is under pressure.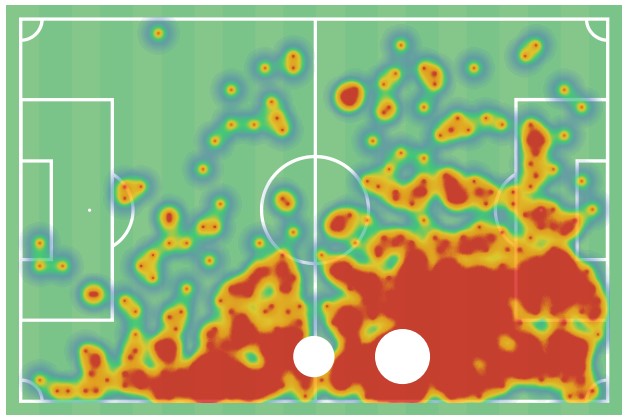 Madueke is blessed with great pace and agility combined with good technical ability which allows him to be a very annoying presence for the opposing players. His ability to constantly move around the edge of the penalty area while far away from the buildup always keeps defenders on their toes. The youngster knows exactly how to free himself up and when to free himself up, meaning a good off the ball movement which you expect from a winger (and what new BVB Boss Marco Rose demands from his attacking players)
During most of his outings either as a starter or as a sub, Madueke has proven to be a very accomplished player when it comes to creating space and making himself available to teammates. The youngster does like to cut inside but you will mostly find him scanning for possible areas where he can be a better option for one of his teammates. This can cause a lot of problems for teams especially those who look to go for a man-marking system. The youngster's ability to play potential scenarios in his head help him be more effective in buildup play. You will always see him trying to fill a pocket of space which allows his teammates to have more options to go for.For a winger, perhaps the most important attribute (arguably) would be how good he is when it comes to dribbling the ball and carrying it deep inside enemy territory. Madueke does love to dribble quite a lot. The Englishman has great close control and excellent pace which allows him to penetrate and stretch defences. The winger boasts a 64% rate of successful dribbles- amassing a 1.7 successful dribble per 90 minute. Meanwhile on defensive end, he has won 52% of his contested duels- winning 3.2 duels per 90 minute. He has stats to back him up both in attacking and defensive end, no wonder why a player of ability will be loved by Marco Rose if this potential transfer goes forward. Since he is predominantly left-footed, Madueke tends to position his body in such a way that it makes it easy for him to make a pass from his preferred foot. While it isn't necessarily a bad thing, relying on his left foot has seen the youngster make the wrong decisions which is something he would need to work on.
Every speedy winger blessed with a bag of tricks needs to be a great reader of the game, especially when his team is transitioning from defence to attack. While he has a breakthrough season in terms of first team football at PSV, Madueke knows exactly how to make use of his excellent dribbling skills and ability to bring teammates into play. Madueke likes to set things in motion quickly and there are instances where he would go for a first-time pass to his teammate if he's in space or is in a better position. The England youth international does not like to complicate things and would simply put a teammate through. In the long run, this ability will help him become a team player and his passing accuracy for first-time passes will also improve considerably.Being a winger, one can expect Madueke to be a good crosser. However, the youngster still has a lot of work to do on his crosses inside the penalty area. The Englishman definitely doesn't cover himself in glory when it comes to delivering crosses and this should be a major concern going forward. While we do understand that he is a different type of winger, one who wants to be closer to the action, he will be required to whip in crosses more often than he does. But then again, the youngster isn't exactly a highly experienced first-team player so he is bound to come up short in a few instances. The youngster plays as an inverted winger so it becomes abundantly clear that the teenager likes to stay close to the penalty area, especially when his team is finding a way past the opposition in or around the final third. This ability has also seen Roger Schmidt use him as a second striker at times, staying close to the 18 yard box, trying to find space in order to either pick up the main #9 with a pass or make space for him or take a late run in the box to trouble the opposition's defense.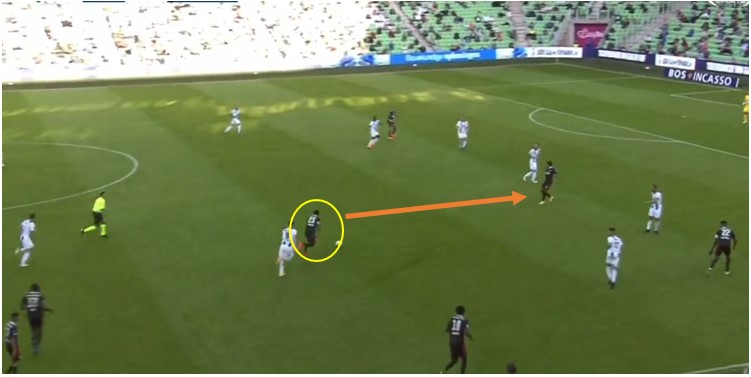 Conclusion
With his dribbling ability, off the ball movement and most importantly, his flexibility in terms of positional sense coupled with his ability to handle pressure when it comes to playing outside of his comfort zone, make him an ideal Jadon Sancho replacement. If this summer, Jadon Sancho's departure is sealed then it makes sense for BVB to make a move for Noni Madueke given the abilities (both on and off the pitch) which the youngster brings with him. Marco Rose will love a player of his ability and tactical discipline, while Noni will also not find it extremely difficult to settle down since he has played under Roger Schmidt who also uses a similar tactical skeleton as Marco Rose. Only time will tell whether Noni Madueke will explode like Jadon Sancho or not but the underlying talent and hard working attitude exist. The next step will be to amplify this to the best of the player's ability and in turn's the team's advantage which should reflect in terms of progressive football and positive results – the ethos on which BVB works. A modest fee of 10-15 million euros will be enough for PSV to part ways with Noni Madueke which can be used to recruit able replacement(s) – a good move for all parties involved if it were to go through in yet another topsy-turvy summer window.