There have been a lot of questions asked about Ole Gunnar Solskjaer's tenure at Manchester United. Is he the right man for the job? Will he bring Manchester United success? Is he capable enough of going toe to toe with the Guardiolas, Klopps and Mourinhos? The fanbase has been divided about Solskjaer's reign as Manchester United manager ever since he was given the job on a permanent basis after the historic comeback against PSG in the Champions League Round of 16. While there are still some doubts about his credibility to win major trophies, it is fair to say that the Norwegian has managed to turn many doubters into believers. One aspect of his management that has received no doubts is his performances in the transfer market. 
Solskjaer knew the rebuild at Manchester United was a pretty big one. He sacrificed his short term in order to achieve long term goals. He always made a case to sign players who would put the club first and sold anyone who didn't share the same interests. Solskjaer also sold a lot of deadwood left behind by the previous managers and brought in players who can all be considered as successful signings. Harry Maguire, Aaron Wan-Bissaka, Alex Telles, Bruno Fernandes, Edinson Cavani have all made a difference for club and while signings such as Donny van de Beek, Daniel James, Facundo Pellistri and Amad Diallo haven't featured as much as the others, their potential is there for everyone to see. 
Today, we will be starting a series in which we will be covering some players Manchester United could have a look at in order to plug the holes in their squad and work towards improving the squad. It has been widely reported that Manchester United are looking to bring in a Right Winger,a Centre Back and a Defensive Midfielder. 
In this piece, we will cover a defensive midfielder Manchester United could look to bring in – Teun Koopmeiners.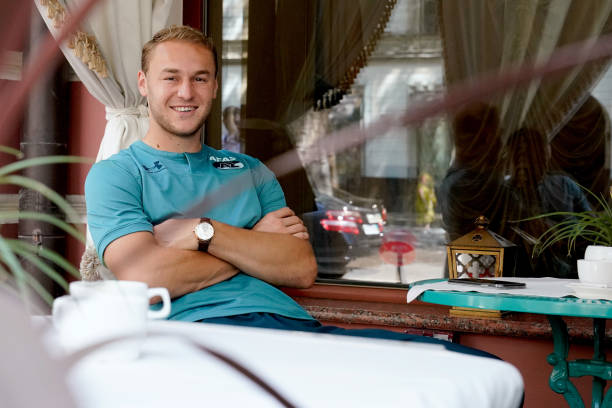 History
Koopmeiners grew up in Castricum, in North Holland. He joined the AZ youth set up at the u12 level and has been playing at AZ Alkmaar ever since. He rose through the ranks, and as a part of Jong AZ, he won the Dutch third tier title in 2016. In 2017, he made his professional debut for AZ when he came in for Alireza Jahanbaksh for the final 30 minutes in a 4-0 loss to Feyenoord. It didn't take long for Koopmeiners to become a starter for AZ as he made 26 league appearances. At the end of that season, AZ finished 3rd in the league, qualifying for the Europa League.
Last season, Arne Slot's AZ grabbed a lot of attention as they finished 2nd in the Eredivisie (tied on points with Ajax) which was ended prematurely due to the COVID-19 pandemic. AZ play an expansive, attacking style of football which boasts many talented academy players such as Calvin Stengs, Myron Boadu, Owen Wijndal and now club captain, Teun Koopmeiners. This season in the Eredivisie, Koopmeiners has scored 11 goals and 4 assists which is an impressive feat for a defensive midfielder. 
Scout Report
Teun Koopmeiners plays on the left side of a 4-2-3-1 formation mainly acting as the deeper lying midfielder of the double pivot. He can play as an advanced midfielder as well as a more defensive one and can also comfortably slot at Centre Back thanks to AZ academy's philosophy of not defining a specific position for the young prospects. The 22 year old contributes equally in attack as well as in defence. Let's take a look at each of his strengths in detail.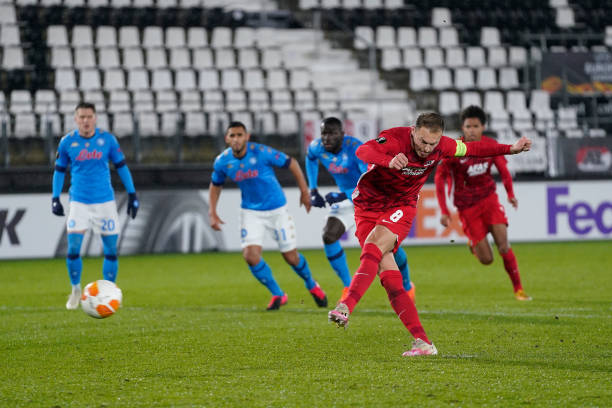 One weakness that Teun Koopmeiners does possess is his lack of pace off the ball. He makes up for it via his positioning and his footballing IQ but his lack of pace is something that must have been worrying for a lot of PL level clubs. He was linked to Leeds United, West Ham and most significantly to Everton but he ended up staying at AZ. 
Scouting score: 9/10
Tactical Fit
Ever since Bruno Fernandes came in at Manchester United, Ole Gunnar Solskjaer has leaned towards dropping the counter attacking system and shifting towards a more possession based system. The tactical system that saw Manchester United arguably play the best football in the league after the lockdown ended last season seems to be the type of system the Norwegian prefers and recent matches in the PL is also a strong indication for that.
Speaking of that post lockdown system – Nemanja Matic was a big, big part of that system. Matic used to drop as a faux CB while in possession and look to start attacks from the deep via passing it through the vertical lines of opposition defence or by carrying it forward himself. Seeing how Koopmeiners plays in the exact same position at AZ, he could be a very capable replacement for Matic as the Serbian midfielder doesn't have age on his side.
 As seen in the image above, Koopmeiners is very capable of breaking the vertical lines and starting attacks from the back.
Not only is he good at breaking vertical lines, he can also play accurate through balls and set up quick goal scoring opportunities for the forwards. Seeming how Bruno Fernandes, Paul Pogba and Donny van de Beek all like to play in between the midfield and defence vertical lines, the balls from the deep to them are very crucial to get Manchester United's attacks going. Nemanja Matic did that exceptionally well and United have been looking at such a deeper lying playmaker to do that job ever since. 
Tactical Fit : 10/10
 Conclusion
Another aspect of the Dutch midfielder which cannot be ignored is that the 22 year old is a born leader. The fact that he was AZ's captain at just 21 years old is a testament to that. Manchester United have lacked strong characters in the dressing room for a while and even though the addition of Bruno Fernandes and Harry Maguire has helped that, another name can only help. 
Koopmeiners is someone who puts his team first and is someone who makes everyone around him play better. He is a proper dressing room leader and a very strong character which will be very important if Manchester United have ambitions to win titles in the near future. 
All in all, Teun Koopmeiners seems like a perfect replacement for Matic. If anything, he plays and behaves like a younger version of Nemanja Matic. Considering the fact that Ole Gunnar Solskjaer prefers to play the possession system under which United have thrived previously and are still thriving under it, Koopmeiners seems like he would be an excellent addition to the squad. 
According to latest rumours, Leeds United, Fulham and Everton are still interested in bringing the AZ captain to England in the summer. AZ could demand a niche fee in the region of €25m to €40m. Considering the low asking price, and all that we have analysed in this report, we would rate Koopmeiners a 'must buy' for Manchester United for summer 2021. 
Overall Devil's DNA score: 9.5/10.