It was always going to be an uphill battle planning transfers for the summer window, given the financial impact of COVID-19 on most football clubs. To think a powerful club like Real Madrid, usually in the top 3 in the Forbes' list of most valuable clubs, made zero signings this summer for the first time in 40 years and still had to sell for £88.65m to maintain finances, makes you realise how tough it has been all around. But among all the doom and gloom, a few clubs have had the opportunity to make shrewd transfers and build a good platform for their manager to achieve his aims while keeping an eye on the bank balance. We highlight 5 of these clubs who have had a praise-worthy 2020 summer window.

1. Everton FC

Ins:
Sum: £67.38m

Outs:
Sum:  £3.98m

Net Spend: £63.4m

The Premier League clubs have had it better than the rest of Europe when it comes to the financial burdens due to COVID. The Premier League clubs together spent a whopping €1.37 Billion with a net spend of €892.05 million this summer. But when it comes to gaining high value for deals and creating a competent team to support their manager, nobody did it better than Everton. The Blues bought a completely new midfield in workhorses Allan and Doucoure and creative genius James Rodriguez, who had his best spell under Carlo Ancelotti in Real Madrid. The manager-player duo has reconnected to great effect with James starting the season strong with 3 goals and 2 assists already to his name. Manager Ancelotti is enjoying great performances from the 3 midfielders, an area where Everton have been desperately lacking in for many years. In addition to that, the shrewd acquisition of Ben Godfrey has gone unnoticed. A high potential defender, he is one player who can fix the back line issues that have plagued the Merseyside club in recent years. Coupled with the in-form strikers, the Italian manager now boasts of a very competent squad that already sits at the top of the table with 4 wins in 4 games. All this while letting go of many deadwood players, Everton have managed to streamline their squad and give their manager a great platform to build on. A top 4 finish? The dream is on!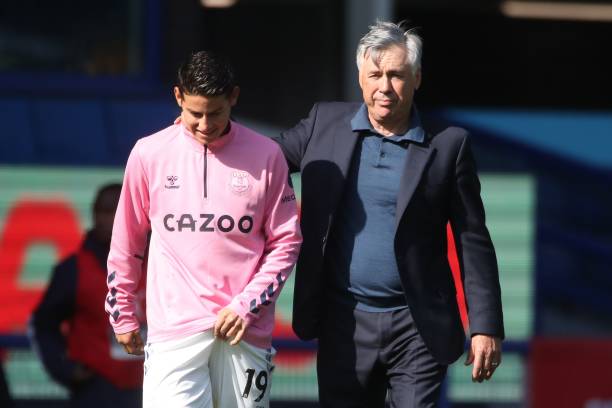 2. Stade Rennais FC

Ins:
Sum: £63.90m

Outs: 
Sum: £44.89m

Net Spend: £19m

It was always going to be interesting to see how Stade Rennais approached the summer transfer window. The French club finished 3rd in Ligue 1 last season – the highest in the club's history. Suddenly faced with Champions League football and a challenge to follow up with a good league season, the onus was on Rennais to ace the transfer window. And that's exactly what they did. Two extremely talented young wingers for either side in Doku and Terrier will have fans super-excited while the signing of Guirassy completes a new look attack. Using the lure of Champions League football, the club was able to loan in unwanted but talented stars, Rugani and Dalbert, who will be looking to prove themselves. Stade Rennais was able to capitalize on the big-spending desperation of Premier clubs Chelsea and Leeds by selling Mendy and Raphinha for a combined £38m. The shrewd capture of Gomis serves as a good GK replacement. All in all, the club sold well, bought players to fill in all the gaps and developed bench strength to compete in multiple competitions, all while rounding off a net spend of just £19m – a masterclass window!
3. Bayern Munich
Ins:
Sum: £55.80m
Outs:
Sum: £19.80m

Net Spend: £36m
It won't be ridiculous to say that Bayern Munich would make the top 5 clubs that nailed the transfer window every year in recent times. The Bavarians are well-run and have been showing astute planning and execution in the transfer market for a few years now and this summer was no less. The long-term strategy to acquire Leroy Sane for good value paid off this window. The Germans were able to bid goodbye to loanees Coutinho and Perisic who took care of the left-wing slot last season and finally welcomed one of Europe's exciting wingers for just £40.5m. Coupled with the in-form Lewandowski and Gnabry, this puts Bayern's attack among the best in Europe now. While they had to let go of superstar Thiago to Liverpool, they more than made up for it by acquiring one of Europe's brightest deep-lying playmaker prospects for a measly £8.10m (not including add-ons). Marc Roca's capture could quite possibly be the deal of the window and was included in our top 5 under-the-radar deals of the window as well. Trading a 29 year old want-away for a 23 year old potential star is exactly the kind of smart move the Bavarians are known for. Coupled with the existing high-performing midfield duo of Kimmich and Goretzka and the loan-in of wonderkid Tiago Dantas, Bayern now have enough quality midfield depth to the point where they could let go of Cuisance on loan for game time. The signing of Tanguy from PSG represents another insanely smart grab of one of Europe's talented defender wonderkids for no fee at all. With backup loan-ins for Choupo Moting and Costa, the Bavarians seem to have made a Champions League winning squad seem stronger than before – all for a modest net spend of £36m. Announce them as the champions of the 2020 transfer window as well, please!
4. Villareal
Ins:
Sum: £29.61m
Outs:
Sum: £23.99m

Net Spend: £5.6m
It has been a tougher period for La Liga teams compared to the others in the top 5 leagues. Put together, La Liga clubs spent €411.80m in the window which is lesser than what Serie A and Ligue 1 clubs spent and less than 1/3rd of the Premier League clubs. They were also the only league in the top 5 to close with a positive net spend (€82.45m profit) showing how there just wasn't enough money to spend for Spanish teams this summer. But, in crisis comes opportunity and the yellow submarine danced around the pitfalls of the summer window impressively. They had to bid goodbye to the ageing midfield duo of Cazorla and Bruno but picked up highly impressive replacements in Coquelin and Parejo. Taking advantage of the turmoil at Valencia, Villareal acquired one of Europe's best playmakers for free. Coupled with the very smart loan-ins of Foyth and Kubo and high-value sales of Ekambi, Unal and Gonzalez, Villareal were able to round up their window with just a £5.6m net spend while improving a squad that finished 5th last season. Finance students,take notes!
5. RB Leipzig
Ins:
Sum: £29.70m
Outs:
Sum: £50.85m

Net Spend: -£21.15m (Profit)

RB Leipzig are the only club in this list to churn out a negative spend i.e. profit based on their summer activity. Bundesliga clubs have had it rough due to COVID and together spent the least among the top 5 leagues with a total spend of €323.20 million. They sold for almost the same amount, roughly breaking even for the window. In such conditions, RBL were able to generate immense revenue from their most valuable asset in Timo Werner who was the 7th most expensive transfer of the 2020 summer window. Losing Timo and Schick upfront meant a need for firepower and RBL delivered replacements in the form of Sorloth who comes from the back of a strong goal-scoring season and the highly-rated duo of Hwang and Kluivert. With the rest comprising loan deals, they have managed to generate an important £21.15m without letting the team quality suffer. The club has started strong this season, already racing to the top of the table, and look on course to finish close to their previous season's strong 3rd palace finish. A profitable window without letting squad quality suffer – now that's business!