Owing to fitness issues due to Quarantine and not playing much football in the last few months, Edinson Cavani had to wait before he could get his first start for Manchester United since his free transfer on deadline day. While most fans were frustrated by another underwhelming transfer window, Cavani was welcomed at the club with open arms and there was a lot of curiosity on how this transfer may pan out. United fans were put out of their misery when the Uruguayan finally made his first start in the 4-1 win against Istanbul Basaksehir at Old Trafford last week. Cavani didn't score but he was the most influential player on the pitch, constantly on the move, pressing defenders and expertly linking up play. The signs were promising.
The Red devils then travelled to the south coast to face Southampton, a tricky tie away from home. United went 2-0 down at half time thanks to some James Ward-Prowse magic which spurred Solskjaer to bring on Cavani at half-time to try and turn the tide. Funnily, Cavani was late to step onto the pitch as he apparently had the wrong boots on. But once he stepped on the pitch, it was clear he was wearing the right boots. He whipped in a cross for Bruno Fernandes to score the first goal past the impressive Alex McCarthy. A few minutes later, Cavani put himself on the scoresheet via a diving header from a deflected shot. And then in stoppage time, The 33 year old scored his second to complete the comeback and give Manchester United the 3 points. It may have taken a while, but 'El Matador' had finally arrived at Manchester United.
Today, we dive deeper into the Uruguayan's career and what makes him such a good striker.
Career History
Born in northwestern Uruguay, Cavani first earned accolades after impressing for Uruguay in the 2007 South American Youth Championships. This prompted many top clubs to take a closer look at him. Eventually, it was Palermo who gave him his move to Europe in 2007. He scored 34 times for Palermo encouraging Walter Mazzarri to buy Cavani for Napoli at the start of 2009/10 season.
Cavani's Napoli career was a revelation. Along with fellow teammates Marek Hamsik and Ezequiel Lavezzi, Cavani helped the Partenopei propel from a mid table Serie A side to Champions League regulars. He scored 33 goals in each of his first two seasons, including the winning goal in the Coppa Italia final against Juventus which brought Napoli silverware glory for the first time in over 20 years. He managed to score 20+ goals for 3 consecutive seasons in Serie A, a feat managed only by Gabriel Batistuta and Antonio Di Natale in the past.
In 2013, it became apparent that Cavani would be moving away from the club and reportedly, Manchester United CEO Ed Woodward was keen on signing the Uruguayan. Sir Alex Ferguson had just retired and David Moyes was at the helm. Moyes liked the idea of having Cavani at the club which led to discussions and talks with his agent. Cavani, only 26 at the time, would've been more than happy to move to England. However, David Moyes went to watch Cavani 3 times and was unimpressed with what he saw. Ed Woodward still wanted to sign Cavani but Moyes refused which led to Cavani joining his teammate Lavezzi in moving to the French capital.
PSG, at the time, were just starting to splash the cash in order to build a team capable of winning the Champions League. Zlatan Ibrahimovic and Thiago Silva were already at the club, and Cavani and Lavezzi were added to the list of elusive signings the Paris-based club would make over the coming years. Ibrahimovic being the main man meant Cavani would play from the left, but that didn't stop El Matador from scoring goals. He continued his goalscoring form by crossing the 20 goal mark in each of his first 3 seasons before PSG went through a lot of changes in 2016. Ibrahimovic and Blanc left the club, Neymar was still at Barcelona and Unai Emery was hired as manager. The following season was the one in which Cavani was the main striker at the club. He scored 49 goals in 50 appearances across all competitions with 35 of them being in the league which won him the golden boot. An impressive return, the transition was something similar to how Karim Benzema came into his own when Cristiano Ronaldo left Real Madrid.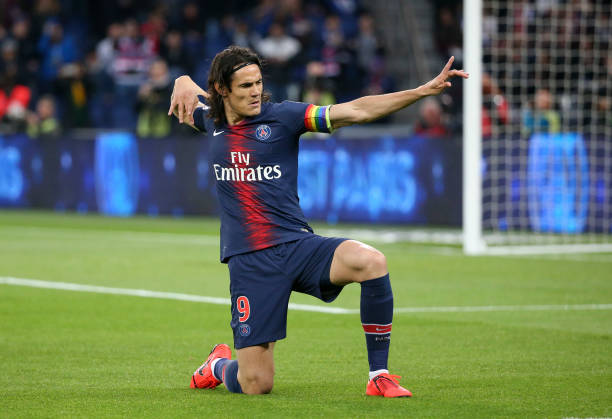 But, PSG were knocked out in the Champions League Round of 16 and finished second to Kylian Mbappe's high-flying Monaco which led to PSG signing Mbappe and Neymar for a combined fee of 357 million pounds the following season. Tensions started to rise when Neymar and Cavani were seen fighting over who would take the penalty duties at the club leading to rumours of a rift between the Brazilian and the Uruguayan. But Cavani was not a diva so he didn't complain at all, something that has been synonymous with him throughout his career- He always kept the team before himself.
The 19/20 season was Cavani's lowest in his career. He started only 7 Ligue 1 games and his year was marred with injuries. PSG decided not to renew his contract and signed the younger Mauro Icardi on a permanent deal after a successful loan spell at the club. In fact, Cavani did not travel with the rest of the PSG squad to Portugal to complete the remaining Champions League games as his contract at the club was almost over. Cavani didn't want to risk one last move to a top European club due to injuries and it turned out to be the right decision. Cavani was set to join Benfica on a free transfer but the Portugese club could not put together a financial package to bring the Uruguayan to Liga NOS. In the end, Manchester United got their man and even though it's early signs, it looks like a good deal.
Tactical Analysis
The one thing that Cavani is recognised the most by is his terrific off-the-ball movement. His attacking movement and positional sense is what makes him such a great striker. Yes, he has a reputation of missing easy chances and sometimes he takes multiple attempts to score but he is able to create those many chances for himself due to his excellent movement. Cavani is always on the move, he wants to be on the end of every pass, every cross, and every long ball.
It is also very evident in the two goals he scored vs Southampton
Here, you can see how Cavani is the only one making a move from both the teams as Bruno Fernandes takes a shot from the edge of the box. Cavani's movement is based on the off chance of getting an easy tap-in from a rebound or a deflection.
And that is exactly what happens. Fernandes' shot is deflected and it falls nicely for the Uruguayan to head it in.
In the second goal, as soon as Rashford gets in a crossing position, Cavani makes a near post run catching Vestergaard by surprise. Rashford finds him with an inch-perfect cross which ends up being the winning goal to complete Manchester United's comeback.
Whoscored.com lists Headed attempts as one of Cavani's strengths but says Aerial duels are one of his weaknesses. Yet, he scores most of his goals from headers. In the calendar year 2019, Cavani had an xG of 5.20 after crosses and also scored 4 headed goals. In fact, the two headed goals he scored against Southampton were the most any Manchester United player has scored since 2018/19. His movement enables him to get away from the defenders and find free spaces in the penalty box.
In this image, Kurzawa receives the ball wide left. Cavani makes a fake run towards the inside making the defender commit to marking that area leaving a lot of space behind.
As soon as there is a possibility of a cross, Cavani attacks the free space left behind by the defender and as the defender has already committed to marking the central area, he is late in tracking Cavani's run.
Look at how far Cavani has pulled away from the defender. He gets a lot of free space and expertly heads in the cross.
His movement is only one aspect of his on-field game though. Cavani has excellent hold-up and link-up play. He brings the wingers and the midfielders in the game through his link up and hold up play. He had a 72% pass completion rate in the penalty area in the Ligue 1 last season. His excellent passing and hold-up play coupled with his brilliant movement also helps him drag defenders away towards him enabling other players to attack that free space and score goals.
At 33 years of age, El Matador may be past his best but his experience and mentorship will help the young Manchester United attack line a lot. His strengths are exactly the traits Rashford, Martial and Greenwood have lack.
"He will bring energy, power and leadership. But most importantly, he will bring goals" was what Solskjaer said on Manchester United's acquisition of Edinson Cavani and that is exactly what Cavani brings to this team.