Four years ago, Iceland's FIFA ranking was 130. These days they are hovering around the 30 odd mark. A country with a population of just above 300,000 has been going through a wonderful phase of producing talented footballers and the next big name in that list might just be Isak Bergmann Johannesson. We shift the focus of our scout series from the new Red Devils wonderkids to someone who could potentially be a new Red Devils wonderkid in the near future as well.
Career History:

Isak comes from a glittering family of footballers some of whom you might be able to recognize. When he was just three years old back in 2006, his father Joey Gudjonsson was turning out for Leicester City. March 2006 saw Gudjonsson produce an iconic moment that will live long in the memory of Foxes fans, scoring a stunning goal from the halfway line against Hull. Gudjonsson enjoyed spells with Aston Villa, Wolves, Leicester, Burnley and Huddersfield among others. As for Isak's grandfather, he is none other than Gudjon Thordarson, who managed Stoke City, Crewe, Barnsley and Notts County among others. Three of Isak's uncles all played professional football at one point or another, while a fourth turned out in the Iceland leagues. Meanwhile, one of Isak's cousins – on his mother's side this time – is a team-mate of his at Norrkoping. Football is in his veins. All eyes are now on the youngster and whether he'll become the third straight generation of his family to take his talents to England.

Isak may well be Icelandic, but he was actually born in Sutton Coldfield in England. The youngster was born not too far from Birmingham city centre, back in 2003 when his father was playing for Aston Villa. Isak actually also went on to briefly feature in Manchester City and Bolton Wanderers' youth sides while Gudjonsson played for Burnley and Leicester.

Isak is a big Messi fan. He attended Barcelona's Champions League clash with Borussia Dortmund back in September 2019, a game which Barça won 3-1. On that occasion, Messi scored once, provided two typically exquisite assists and generally ran the show. Taking to his Instagram after the game, Bergmann Johannesson summarised his experience at Camp Nou by writing: "Wow. We saw Barcelona at Camp Nou. We saw Messi. We saw Messi score. We saw Messi assist two. We saw Messi be too good. We saw the goat. We experienced our dream." He was also wearing a Frenkie de Jong jersey, a player he has admitted to looking up to. The influence of the Dutchman on his game is clear, notably his composure on the ball and ability to dictate the game.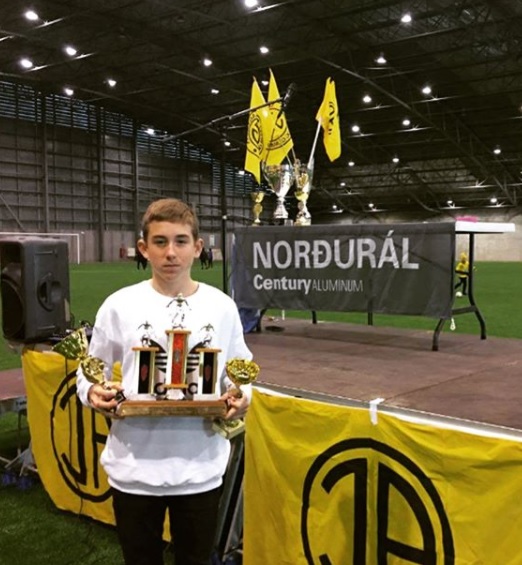 You would be forgiven for not necessarily keeping up to date with the goings-on in Swedish football. But to fill you in, Isak Bergmann Johannesson has impressed at youth levels at ÍA Akranes and IFK Norrköping where he earned numerous trophies and individual awards. He was awarded as the most promising youngster in men's category at U14 level in 2015, U15 level in 2016 and U16 level in 2017. He then won the Icelandic championship at U19 level in 2018 before dominating the Svenska Mastare (Swedish Championship) at U21 level in 2019. His rise and impact was too hot to ignore and since the start of the Allsvenskan 2020 (Swedish top flight), which runs from March 2020 to April 2021, he has already become a key figure within IFK Norrköping senior team thanks to his impressive performances. The midfielder has made 26 appearances in all competitions this season, netting four times and providing a further ten assists as well, to fire Norrkoping to third in the Swedish top-flight with five games to play and within a great chance of a rare European competition berth for the Swedish side.

At international level, despite his age, he is already featuring for Iceland's U21s, such is his talent, and should he continue to progress, a senior international call up won't be too far away. But having not made his senior debut and being born and raised in England, Isak could still opt to play for The Three Lions.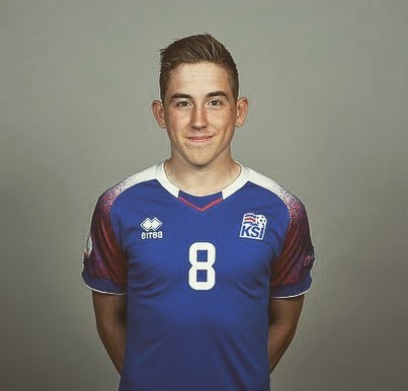 Playing Style:

A versatile player, Isak can play on either wing or as a central midfielder, which is his preferred position. Oh, and he's also filled in at left back this season as well. With a wand of a left foot, Johannesson is lethal cutting in from his favoured right-wing. His playing style and preference of playing on the right side or center as a playmaker draw comparisons to Giovani Lo Celso and Dejan Kulusevski.

The teenager plays with a maturity beyond his years, knowing when to drive forward and go for goal himself and when to pick out a teammate. Isak is most dangerous when finding pockets of space to work in and setting up his teammates with pinpoint passes. But he's definitely not afraid of going for goal himself either. In a tight tussle with Helsingborg back in August, the youngster – who was playing left back on this occasion – made a bright run up field to support the attack. Feeding the ball to a teammate on the edge of the box, Bergmann Johannesson looked to play a clever one-two, receiving the ball back just inside the 18 yard box. Without hesitating, he unleashed a ferocious strike with his left foot, with the ball rifling into the top corner at the near post. The goalkeeper just stood there, what else was he supposed to do?

His greatest strengths are undoubtedly around his wand of a left foot. His passing range is astounding for someone his age as he mixes up measured through balls, floated crosses, drilled crosses, opposite flank switches and defence-splitting chips as easily as a precise short pass. He boasts of that rare ability when as a teammate you know that if you run into space, a pass from Isak will somehow find its way right in front of you laid on a platter with the correct speed and angle for you. Though he is very one-footed relying on his magic left foot for most part of his game, he is capable of covering for the angular issues by playing some glorious outside-the foot passes and crosses reminiscent of prime Mesut Ozil.
His positional versatility means that he can provide accurate dangerous crosses from the left side while playing at left back or left wing, or cut in and shoot for the far corner when deployed on the right wing or run the show as the heartbeat of the team,  creating chances and linking defence to attack, when played as a central midfielder. In all cases, he displays a great first touch and close control followed by an ability to quickly assess where his teammates or the goal are before picking his target with his left foot using pinpoint precision and immaculate technique. He's also no slouch off the ball being a very willing runner when his teammates have the ball often engaging in smart 1-2s and channel runs when played in the middle of the park and belting out repeated threatening runs behind the opposition fullback when played as a wide player.

His technique and precision make him a threat in dead-ball situations given his ability to beat a goalkeeper like this. Standing at 180cm, Isak doesn't fall prey to the common tropes of youngsters his age like poor physical strength and endurance. He boasts good body strength and balance, regularly shrugging off tackles and presses in midfield comfortably while running with the ball. He also displays good aerial threat during set pieces and shows off the stamina and workrate that often see him running hard even at the 90th minute of a game. His only weaknesses seem to be pure defensive traits like marking, tackling and positioning which make playing as a defensive midfielder seem unlikely for the time being. But he has high potential to develop into a consistent, intelligent and explosive attacking player in any position ahead of that for sure.
Transfer Saga:

A number of clubs have sat up and taken notice of Isak. In fact, Liverpool became the most recent club to send scouts to watch him in action on 25th October. Expressen reported that Liverpool scout Mads Jorgensen watched him as Norrköping played out a 2-2 draw with AIK. Though Liverpool's scouting trip was widely reported, the fact is that they actually just joined a rather long list of suitors, which contains most of the top clubs in Europe, including Manchester United and Juventus. These sides have all decided to send scouts to see the youngster first hand in recent months, but due to COVID-19 measures, only six scouts are allowed to attend a game in Sweden. As a result, Norrköping director Jens Magnusson recently confirmed that they have had to start turning away scouts as there are simply far too many looking to see Bergmann Johannesson up close.
"I think there are six scouts who can be admitted per match. But we had an incredible number of more requests for this match [vs AIK]," he told FotbollDirekt. "So there is a limitation. There we had to pull the handbrake a bit now. Then you never know exactly which players they are there to watch, of course. But here at the end, it is no secret that many are there to see Isak."

The club's chief scout Stig Torbjörnsen confirmed that should a suitable offer come in, Norrköping could well part ways with the youngster. In late October, Stig claimed, "It's hard to say if we can keep him in January. A club with a lot of money could come along now or in six months. Norrkoping have a lot of money and don't need to sell, and Isak has a sensible agent and family. When something comes up that is good for all parties, something will happen."
Isak recently gave an interview to Expressen where he used an often-quoted phrase that will excite United fans: "Manchester United is my dream club, along with IFK Norrköping. I lived in Manchester as a child and watched many matches there." Despite this, however, he refused to rule out the possibility of joining either Man City or Liverpool should they come calling, adding: "You can not say so. They play good football. Manchester City and Liverpool have been great. But will I have the chance to move this winter? I'll just concentrate on Norrkoping – we have five games left to get a European place"

What will get the hopes of United fans up is a recent Instagram post from Isak. Just 2 days after Manchester United's Bruno Fernandes posted "I might lose, but I will never give up until I win again" on his Instagram after United's impressive victory against Everton last weekend, this week Isak posted "We might lose, but we will never give up until we win again" after IFK Norrköping's loss to Mjallby over the same weekend. The coincidence is too big to ignore considering he's a self-proclaimed childhood United fan. Manchester United fans can only hope Isak decides to sign for his dream club soon and follows in the footsteps of the playmaker whose caption he copied.
(Image and video credits: Isak's Instagram account: https://www.instagram.com/isak.bergmann.johannesson/)