Scouting in football was a simple profession. A scout goes to a game, or a few, to watch a potential transfer target And if he likes what he sees, then he is in the list of potential recruits. Nowadays, it is much more complicated and much more detail oriented than that. Due to many factors including a boom in data driven analysis along with much easier access to video footages of players, Scouting has become a much more extensive process.
Another factor we can consider is the continuous inflation of the values of players playing in their prime. Players, playing in their prime, in today's transfer market cost a lot of money and the mid table clubs in any league don't have the financial muscle to sign such players. Instead, we can see a lot of clubs going for the 'wonderkid approach.' Clubs prefer to sign players under the age of 23 or 21, who are relatively cheaper and have loads of potential and develop them and then sell for a much bigger value later on. Clubs like Borussia Dortmund, Leicester City have kind of made this their transfer policy and it is becoming increasingly popular these days due to the many means of scouting available.
Today, we will look at the top 5 wonderkid signings in this transfer window.
Note: We are only considering players, under the age of 21, who had their breakthrough season last season or players who are on the verge of having their breakthrough season. So, players like Kai Havertz won't be under consideration as they can already be classified as established first team superstars.
#5 : Jeremy Doku
From: RSC Anderlecht
To: Stade Rennais FC
Age: 18
Position: RW/LW
Cost: 25m euros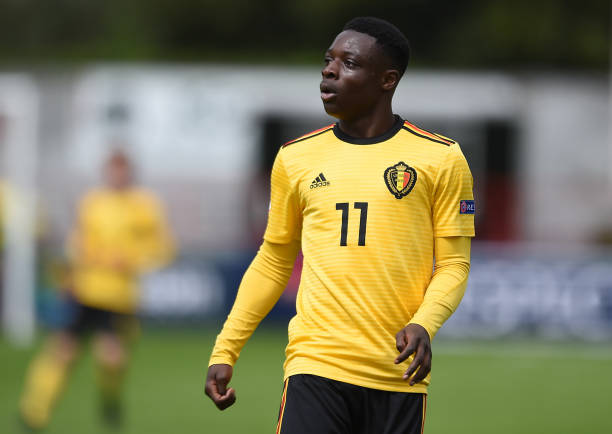 Jeremy Doku is widely considered as the hottest talent coming out of Belgium who already have managed to give the world a plethora of sensational talents. The 18 year old joined Anderlecht in 2012 and has made 30 appearances for the Belgian powerhouses after debuting when he was only 16 years old. His performances last season caught the eye of many, one of them being Belgium manager Roberto Martinez who gave Doku his first call up to the senior side.
Doku can play on either flanks and is known for his explosive pace and dribbling. His dribbling is his prized asset with him attempting(12.54) and completing(7.42) dribbles per 90. More than anyone else in the Belgian pro league. Doku attempted 168 dribbles last season whilst 126 of them being successful, an impressive 75% dribbling rate. Another one of his strengths is his crossing with him having a 40.3% success rate.
Liverpool, Arsenal, Manchester United and AC Milan were all interested in securing the Belgian's services but Stade Rennais got their man in the end. The interest from these clubs show how much he is rated by everyone in Europe.
#4: Jonathan David
From: KAA Gent
To: Lille OSC
Age: 20
Position: CAM/ST/LW/RW
Transfer fee: 30m euros
Doku wasn't the only player moving from Belgium to France this transfer window with the other one being the highly rated Canadian – Jonathan David. David was still playing for an amateur side in Canada only 2 years back which earned him a trial at Gent. Impressed by his skill, he was signed immediately into their youth setup. He continued to rise through the ranks and last season came into his own playing for the first team. In 27 Belgian Pro League matches, David managed to score a whopping 18 goals and also add 8 assists to his tally. He also scored 3 goals in the Europa League. His integration in the Canadian national side has been very impressive as well with him managing to score 11 goals in just 12 caps. 
Jonathan David can play across the forward line but he shines the most while playing in central positions, mainly as a secondary striker. He has got good pace and dribbling skills which make him a go to outlet for counter attacks. His decision making and movement are also impressive with him known for his late runs into the box and scoring goals using his intelligence. It was no surprise that Lille made him the most expensive Candian ever as they are known for their extensive scouting range.
#3: Victor Osimhen
From: Lille OSC
To: SSC Napoli
Age: 21
Position: ST
Transfer Fee: 60m euros
Another one of the Belgian to French League transfers. One which happened last season when Victor Osimhen moved from Charleroi to Lille. Osimhen had his breakthrough season last year with him scoring 13 goals and adding 5 assists in 27 appearances for Lille in the Ligue 1. He was in the running for winning the golden boot before the season was ended prematurely due to the pandemic.
Osimhen's main strengths lie when in and around the box. He completes very little dribbles and is rarely involved in the build up play but he is a fox in the box. His movement and clinical finishing is what makes him special. While his movement in the box is his best trait, his hold up play is something that cannot be ignored. He only has 2.9 unsuccessful touches per 90, only 0.6 more than Harry Kane whose hold up play is one of the best in Europe. He is also a relentless presser and works in both the offensive and defensive transitions. His ability certainly impressed Genaro Gattuso who urged Napoli to pay the big bucks for the 21 year old.
#2: Jude Bellingham
From: Birmingham City AFC
To: Borussia Dortmund
Age: 17
Positions: CM/CAM
Transfer fee: 25m euros
Borussia Dortmund have cultivated a reputation for being the home for many promising youngsters in Europe. Jadon Sancho, Erling Haaland, Dan Axel Zagadou all moved to play at Signal Iduna Park and are regarded as some of the most promising youngsters in Europe. Bellingham being no different. Already a first team regular for Birmingham in the Championship at age 16, many top clubs like Manchester United, Bayern Munich, Chelsea and Real Madrid were rumoured to be interested in signing the player. Particularly, Manchester United were very keen to bring the 17 year old to Old Trafford but Bellingham rejected them in order to guarantee playing more first team football.
Bellingham made 44 appearances last season for Birmingham in all competitions mainly playing as a CM in a 4-4-2 but he also played on the right in a 4-2-3-1 or even as a striker in some matches The 17 year old also won the EFL Young player of the season last season. All this at only 16 years old. What people like so much about Bellingham is that he is far from the finished product and he can develop into pretty much any type of midfielder he likes. He is a gifted dribbler, is clinical in the attacking third, he has got good strength and also a very good footballing IQ. He is very good in the defensive side of things as well, with him very adept at tackling and intercepting the ball. A pure box-to-box midfielder who can work very well in both defensive and offensive parts of the game and can be developed in any midfield role depending upon the system his team plays.
#1: Sandro Tonali
To: Milan
From: Brescia
Age: 20
Position: DM/CM
Transfer fee: 10m in Loan fees/option to buy for 15m euros
After being promoted last season, Brescia struggled in the Serie A and ended up being relegated. But, they had the most exciting Italian youngster in their ranks – Sandro Tonali who didn't fail to impress in the Serie A. Dubbed as the next Andrea Pirlo, Sandro Tonali is one of the most promising youngsters in Europe. Tonali himself says he is closer to Gattuso than Pirlo but he could be considered as a mixture of both of them.
Tonali plays the same Deep Lying playmaker role or as a Regista that Pirlo used to play. He played as the deepest midfielder for Brescia in a 4-4-2 diamond formation. His vision and his passing are his best abilities. His 74% pass completion rate may seem low but Tonali is known to take risks and pass it forward instead of playing it safe sideways and backwards. He averages 2.1 key passes per 90 which means he is not afraid to take risks and pass it forward. He is also a very sound dribbler with him averaging 1.4 dribbles per 90. In the defensive phase, he shined in a Brescia team who had one of the worst defences in the league last season. He averaged 1.2 tackles and 4.8 successful pressures per 90 last season which showcases his sound defensive abilities. His numbers will only improve at Milan with him playing with considerably better players. At the price Milan can sign Sandro Tonali, it already looks like a real bargain.
Honourable Mentions
Sergino Dest (From AFC Ajax to FC Barcelona)
Ferran Torres(From Valencia CF to Manchester City)