The Transfer Market is down upon us. Who would have thought that Lionel Messi will actually be shown as a free agent on Transfermarkt and free to talk to other clubs (changing clubs eventually) or Cristiano Ronaldo will return back to Manchester (but joining the blue half of Manchester). In this window, there has been a certain pattern visible among top clubs. It is the out flux of superstar players from Serie A to clubs in different leagues with better financial condition- Rodrigo De Paul finally earning his big move to Los Rojiblancos- Atletico Madrid. Achraf Hakimi leaving Inter Milan to join Paris Saint Germain which has arguably become the biggest sports washing project in the history of football. Hakimi's team mate at Inter Milan and their talisman, Romelu Lukaku also decided to move to European Champions, Chelsea FC in a staggering 115 million euros move. Lukaku will be rejoining the club, exactly 10 years after he first joined the club. But this time he joins as an experienced, mature and proven striker rather than a youth prospect, ready to prove his naysayers in England wrong, again. Cristian Romero, right after becoming the Defender of the year in Italy has switched his allegiance to Tottenham Hotspur along with his Atalanta team-mate, Pierluigi Gollini.
One more player from Serie A is also on the eyesights of various clubs. His versatility will be a vital factor to become a key player for his future club and national team. This article will be looking at Bologna's Takehiro Tomiyasu.
Player Profile
Born in Fukuoka, Japan, Tomiyasu was first scouted by the Mitsuzuki Kickers' general manager Kanji Tsuji and was impressed with his performance. His passing and acceleration were standout among his peers. At the age of eleven, he was persuaded to join FC Barcelona's youth camp in Japan. After a series of trials with the Catalan club, he was given the opportunity to join the club and move to Spain. But difficulty in relocation to Spain saw this move crumble down. After failing to join FC Barcelona, Tomiyasu joined Avispa Fukuoka. He initially started as a midfielder but once he progressed through the ranks at youth level, he was converted into a defender- capable of playing anywhere along the back line. He was transitioned into the first team at the ending stage of 2015-16 season and he eventually became a first team player next season, filling in in defensive midfield, center back and right back position.
By this time, some European sides also started to scout him. But it was the Belgian side Sint-Triuden who won the race to sign Takehiru, all thanks to their Japanese owners who have, over the years provided a good platform to Japanese players to start their European journey without any undue pressure. This happened to be the same case with Tomiyasu who took his good amount of time initially to settle down but delivered all the goods in his first full season with the club. At the end of 2018-19 season, Italian side Bologna decided to sign the now Japanese International in a deal worth 9 million euros, a plusavenza (profit) of 8 million for Sint-Triuden, also becoming the record sale of Belgian side.
The Japanese International this time took no time to settle down and started to show his talent to the world. After 2 good seasons with Bologna under their manager, once an iconic player of Serie A in his playing days, Sinisa Milhajovic. Takehiro Tomiyasu has now earned the praises of many critics in Italy and even abroad.
Playing Style
Takehiro Tomiyasu is a player whose position is difficult to pin down, other than 'defender'. He is right-footed and comfortable playing as a right-back or as a right wing-back but he is also capable of playing as a central defender and he thrives as either a left or right-sided central defender in a back three or even as a center back in back 4, equally capable of playing either as a stopper or a cover.
One of the strengths of Tomiyasu's game is his ability and willingness to drive forward in possession of the ball. This will be a big factor for teams trying to build up their game from the back. Tomiyasu made 909 passes with his right foot last season, 467 with his left. He clearly is comfortable passing with both feet even if he prefers his right foot, making him extremely valuable in tactical flexibility, linking up play, and press resistance. Tomiyasu completes .17 key passes / 90. Additionally, he completes 8.22 progressive passes / 90. That said, it's clear that Tomiyasu is very influential in progressing play not just through advanced positioning and short passes but also medium to long passes as well. His ability to get involved in the final third further proves that. He completes 7.04 passes into the area, with a success rate of 78%. Bologna tend to play an up-tempo kind of possession football and attack down the right-hand side, which is where Tomiyasu is located and has developed a good understanding with Riccardo Orsolini. They play an aggressive, high-pace style of football which is usually met with an aggressive style of play back. Mihajlović's favoured formations are 4-2-3-1 and variations of the 4-3-3 which seem to fit Tomiyasu's strengths fairly well. They play with width, which is where Tomiyasu is at his most comfortable. Bologna do not aim to play counterattacking football. They prefer to use aggressive pressing out of possession, to get the ball back, and control possession in the opponent's half.
The Japanese has a good 'physical' build which a lot of Premier League fans and pundits look for in any new signing coming to England (even though there is no correlation between this physical strength and modern-day game in England). He is strong at reading the game, seeing passes happen before they are made. He is equally capable of putting himself in positions to intercept the ball. His concentration and teamwork are impressive skills for a player his age to have, as it tends to be the case that young players lack these mental attributes, before their technical traits. His jump from Japan to Belgium and then to Italy and performing well beyond expectations is a testament to his mental attributes. He is an aggressive ball winner who always presses to win back the ball. 135 of Tomiyasu's 346 presses last season came in the middle third. He's third amongst Serie A defenders in recoveries (action that wins the ball and leads to at least 5 seconds of team possession) and second in the league for counter-pressing recoveries (4.41 p/ 90, recovering the ball within 5 seconds of the opposition team gaining possession). A lot of this is due to his placement in the system, as he plays high up the pitch in possession when Bologna squeeze.
As any modern full-back, he also has an important role offensively too. His teamwork and crossing ability allow him to get past the opposition defence and attempt to create a scoring opportunity. His dribbling ability and technique are also important he can effectively get past his man and produce a quality pass in the final third. He is a strong dribbler, as he completes more take-ons than he fails, with an impressive 66% take-on completion rate. He puts in a decent amount of defensive work, and as Bologna do not tend to dominate the ball every game- Sinisa Milhajovic tries to change the playing style and players according to opposition's strengths and weaknesses. He finds himself in defensive duels more often than attacking rotations. From viewing his attacking efforts, it is clear to see that when he does roam forward, he is fairly competent for a defender his age. All this as a collective leads to an xGBuildup per 90 of 0.29. This is a figure looked favourably upon when compared to other defenders in Serie A.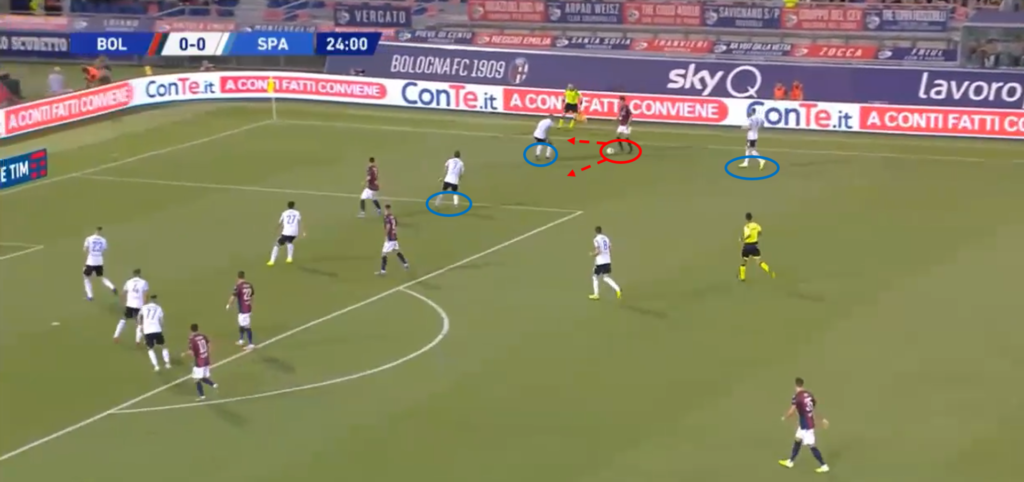 Conclusion
Takehiro Tomiyasu is a well-rounded player who has had played in multiple systems over the years and has taken less time to adapt to new conditions- at such a young age for a footballer. A versatile player like will always be an asset for teams who are trying to push towards an aggressive counter pressing cum possession-oriented approach of football.
He is at a junction in his career where he can easily make a jump to the 'big teams' (no disrespect to Bologna here). A host of Premier League teams including Tottenham have shown concrete interest in him. A modest price of 25 million euros may just be enough for teams to secure a signing which can set their defensive unit for good period. Even teams in Bundesliga can consider him as a quality versatile option, especially Borussia Dortmund and Bayern Munich who need a reliable right back option to boost their squad depth.