According to multiple reliable sources in the UK and in Europe, Manchester United are in the market this summer to buy a striker. Forwards, especially strikers, this season haven't been great for Manchester United –  Edinson Cavani has had to deal with problems both professionally and personally, Mason Greenwood is still learning the trade as a striker and Anthony Martial is struggling to get any kind of consistent form going. It is also rumoured that the Uruguayan veteran may well leave Old Trafford at the end of the season which leaves the club with only one recognized striker in Anthony Martial. While the goals have flown in this season from Bruno Fernandes and Marcus Rashford, it is no secret that the Red Devils need another solid attacking option to take them to the elite level. 
That attacking reinforcements are speculated to be either of the Dortmund duo, Jadon Sancho or Erling Haaland. Sancho would come in on the wings instead of the centre forward position, that would allow Greenwood to move into the striker role. But, due to spending upwards of 40m on two young right wingers in Facundo Pellistri and Amad Diallo, Solskjaer and newly appointed DOF John Murtough could look to bolster the striker position itself. It is rumoured that United have the budget to make only one marquee signing and the heavily rumoured signing is Erling Haaland. It will be tough for Manchester United to sign the Norwegian as he is on the radar of many other top European clubs such as Chelsea, FC Barcelona and rivals Manchester City. 
In this piece, we will cover an alternative Manchester United could sign on the cheaper side and focus on spending the marquee signing money on some other position. We will take a look at the Swedish striker Alexander Isak who is making quite a name for himself at Real Sociedad in Spain. 
History
Born in central Stockholm, Isak made inroads with his local club AIK Stockholm (or simply known as AIK) at a very young age and gathered a lot of attention for his physique and good technique. Being a good young striker from Sweden and having a strong physique, it was natural that Isak drew comparisons to Zlatan Ibrahimovic at a very young age after his breakthrough at AIK. 
He made his professional debut in a cup game against a fourth tier side for AIK on 28th February 2016 at age 16. The Swede scored a goal in a 6-0 victory. He was then named in the starting lineup in a league game for the first time a month later and he scored again in a 2-0 victory en route to becoming the youngest goalscorer in AIK history at 16 years and 199 days old. He soon became a first team regular having impressed in the limited time he got on the pitch. He signed his first professional contract later on in May.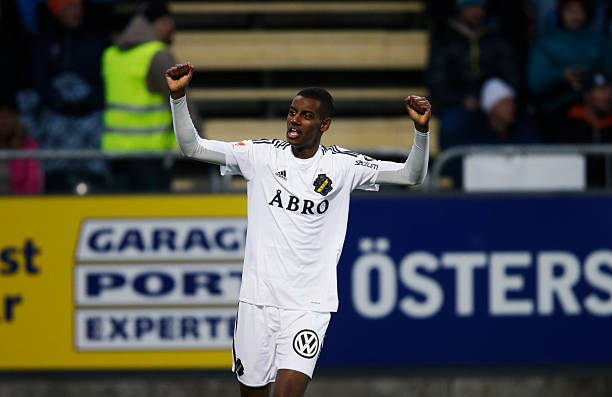 He scored 10 goals in his breakthrough season which helped him earn a 9 million euros transfer to German giants, Borussia Dortmund. His stint at Dortmund didn't quite go according to plan as he made only 5 league appearances for the club and didn't score any goal. After failing to make even a single appearance in the 2018-19 season for Borussia Dortmund, he was shipped on loan to Dutch side Willem II in January. 
The Swede impressed in Eredivisie by becoming the first player in the league history to score 12 goals in his first 12 league games. He even scored an equaliser and a winning penalty against AZ Alkmaar to take Willem II to their first KNVB Cup final since 2005. He ended his loan spell having scored 13 goals in 16 games. 
His impressive loan form drew a lot of attention from many other European clubs. The 21 year old signed for Spanish club Real Sociedad in the summer of 2019 for a reported fee of €6m.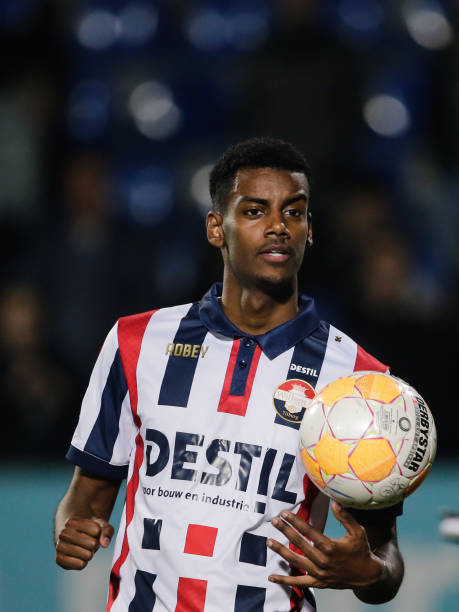 Scout Report
Alexander Isak has continued his impressive form and development ever since signing for Real Sociedad. He scored 9 goals in 14 starts in the 2019/20 season as he shared the striker role with Willian Jose. This season, Isak has taken his game up a level scoring 12 goals in 20 starts. We will take a look at his biggest strengths. 
Link Up Play 
Isak plays mostly as a lone striker in a 4-3-3 or a 4-2-3-1. He is very good at dropping deep and receiving the ball and linking up play for his teammates. Real Sociedad play in a way that attracts the opposition press in the middle which allows them to release wide runners in either the wingers or the fullbacks pushing forward. Isak is a great outlet for them as he sucks in defenders and his good hold up play and strength coupled with his good passing allow him to release the runners in the wide areas. 
He is very adept at finding little pockets of spaces in and around the final third which allows him to expertly link up play with his midfielders and wide players. The Swede has a pass completion rate of 75% which is very good for a striker where he doesn't have all the time in the world to release the ball to keep the move going. 
As seen in the above images, Isak frequently drops deeper to link up play with one touch  or two touch passing which allows Sociedad to retain possession and continue their build up play. The Swede acting as a focal point is very crucial in Sociedad's possession-friendly tactical setup. 
Dribbling, Progression and Half Turn
Continuing with the theme of Isak dropping deep, if he hasn't got a passing option available, he simply carries it forward himself. He is fast, strong, is a good dribbler and is very quick on the half turn. He draws in the opposition defenders with his back to them and then quickly turns away from them opening up space for him to either pass or to carry it forward. 
As seen in the images below, Isak is very quick on the half turn and drawing defenders in before quickly turning them and progressing the ball forward. Isak averages 19.9 carries per 90 with a progressive distance of 125.9 yards per 90. 
In the below image, he expertly draws the defender to get close to him which leaves a lot of space behind the defender, which the Swede runs into after quickly turning the defender. 
Here is another example where he attracts the defender towards him and exploits the space left behind by the defender to progress the ball forward using his excellent dribbling skills.
Shooting
Alexander Isak boasts the highest npxG (Non penalty expected goals) per 90 in the whole of La Liga which shows that he is as lethal in the box as he is outside. He also ranks among the highest in touches taken in the penalty area. So not only is he adapt at playing away from the box, he is very lethal in the box as well. 
The Swede has scored 12 goals in the La Liga this season with none of them coming from the spot. He has accumulated a npxG of 11.4 which shows that he is actually outperforming his expected goals tally by a bit. This shows that he is a very lethal finisher and his quality of shots are very good instead of taking wayward shows which many strikers his age tend to do as they have a point to prove. Isak is composed and chooses his moments which is a very good sign for a young striker. 
Here is a chart comparing his shooting with some of the top strikers.  
(Credits: footyscouts.com/Liam Lam)
Isak ranks among the very best in the business in terms of shot quality, volume and npxG. 
This is a graph comparing his npxG and touches inside the penalty area among all the La Liga strikers. As it is evident, he is again one of the best in that sense. 
Off the Ball Movement
We'll take a look at his off the ball movement to understand how he is able to create space for himself inside the box. 
Isak sees that Oyarzabal is winning the duel vs Carvajal, so he expertly peels away from  Sergio Ramos who is caught ball watching and exploits the space behind the Spanish defender. This allows him to be free in the box to receive the cross from his teammate and he smashes in a beautiful volley past Areola in goal.  
This image is another example of he can find space using his off the ball movements. He waits for the very last moment to make a run while isolating the defender against him and due to his quick change of pace, the defender is left behind and Isak, being onside, is able to run behind the defensive line and receive a beautiful pass from Odegaard which lands him in a 1v1 with the keeper which he expertly slots away.
There are also areas where Isak needs to improve on such as his decision making. Due to been given freedom to either dribble or shoot or pass, Isak often makes poor decision in the final third in whether to pass the ball, take a shot or dribble it himself which leads to the attack breaking down even when a better option was available. However, we can cut the 21 year old some slack as he is still very young and learning the trade of the game.
Conclusion
Ole Gunnar Solskjaer has wanted a striker who can drop deep and link up play while being effective in the final third as well. He often asks Martial to drop deep and hold up play or release the fast wingers such as Marcus Rashford, Mason Greenwood and Daniel James. Seeing what the Norwegian manager asks of his strikers to do, Isak seems to fit the profile perfectly. He is fast, strong, has got good pace, good dribbling and is very lethal in and around the final third. He would suit a counter attacking system as well as a possession-friendly one. With a little improvement in some areas, Isak can develop into a complete centre forward.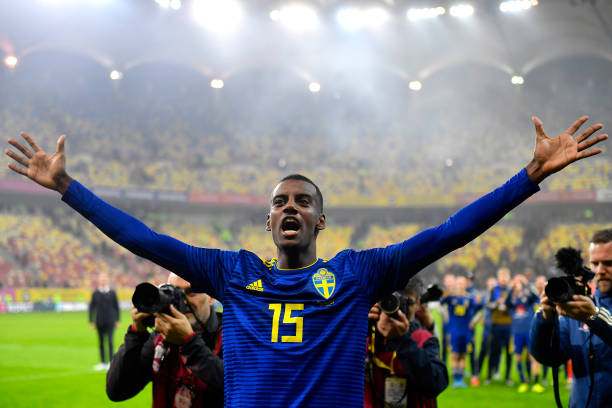 While Erling Haaland would be the dream signing for Manchester United, they could take a look at the young Swede for a cheaper alternative with a view of developing his game even further. 
Devil's DNA score: 9/10