With recent reports suggesting that Paul Pogba's future lies away from Manchester United, it is only natural for the Mancunian club to be linked with a replacement for the French superstar. Pogba, who has a year left on his contract is not willing to extend his stay in England's footballing capital and United can try and sell him right now, or keep him and hope he signs an extension before his contract expires next season. Regardless of whether Pogba moves or not, United desperately need a midfielder anyway. We have already done two articles on this before so I won't elaborate about it here.
If Pogba does make a move this window, United should be (ideally) in the market for 2 Central midfielders. One midfielder being able to play a more deeper role and another one being a more dynamic, runner of the ball. And as it the case of almost every trsansfer window, Manchester United are linked to a host of different midfielders of both of those profiles. With Declan Rice being the standout name for the former and Atletico Madrid midfielder Saul being the most high profile for the latter. 
Another French midfielder who has one year remaining on his contract and would fit the Pogba replacement profile perfectly is Eduardo Camavinga. Today, I will try to explain how the young French sensation can fit the team and what little tactical tweaks we can observe with Camavinga in the side. 
History
For someone who is still in his teens, Camavinga already has moments in his short career that have been etched in the history books. Eduardo Camavinga signed his first professional contract when he just a month older than 16 and it was not long before he made his debut. 
Eduardo Camavinga was the youngest player at Rennes to sign a professional and also the youngest player to ever play for the first team. His breakout game came against PSG when he put in a MOTM performance in the midfield and also set up the only goal of the game. His assist meant he became the youngest Ligue 1 player ever to register an assist. 
After that, it wasn't long before the young Frenchman cemented his place in the Rennes starting 11. The 2019-20 season can widely be regarded as his breakthrough season in France. Now, a full fledged first team regular and also a French International and with only one year remaining on his contract, it seems as if moving Camavinga on is the best move for all parties involved and Manchester United are among a host of clubs monitoring his situation at Rennes. 
Playing Style
When he first broke on the scene in 2019/20, Julien Stephan, the then Rennes manager used him as a defensive midfielder in a 4-4-2 or a 3-4-1-2 at the tender age of 17. Camavinga is excellent in tackling and disrupting the opponent's play in his own half. He has displayed Kante-esque traits where his work ethic and excellent tackling make him a very good workhorse for the team. He won more tackles than any other player in the Ligue 1 in 2019-20 despite only playing 25 games. 
Even though he first made a name for himself for his tackling and work ethic, the youngster offers so much more than just that. He operates in the areas of a deep lying playmaker and his long passing also offers him to distribute the ball and start attacks playing from deep midfield. He completed 91% of long passes in 2019-20 displaying a perfect blend of maturity, tenacity and elegance in his style of play helping Rennes qualify for the Champions League for the first time in their history. 
In 2020-21 season, Rennes shifted to a 4-3-3 formation and with Steven Nzonzi sitting at the base of the 3 man midfield for the French side, it allowed Camavinga to play a more advanced role. He has played at the heart, on the right and on the left side of the midfield throughout the last season but he mainly played as a RCM in a 3 man midfield. 
Even observing his heat maps from the 2 seasons we can see his development as a player.   
As we can see, in 19/20 (Top) he played a much deeper role compared to the one in 20/21 (bottom). 
Due to being given more freedom to roam ahead and play further up the pitch, Camavinga's creative numbers have gone up. His dribbling and passing numbers have improved while his tackling has remained the same. Camavinga can best be described as a combination of N'golo Kante and Paul Pogba. He has the work ethic and the tenacity of Kante while being as elegant on the ball as Pogba. 
The Frenchman has shown a lot of maturity in shifting his game from a deeper lying midfielder to a box to box midfielder. He had a pass completion of 89.3% in Ligue 1 while also averaging 6.37 progressive carries p90. Adding to this, he also had 3.4 tackles p90 and 1.92 dribbles completed p90. He ranked in the 97th and 95th percentile for both the stats in Ligue 1. Very impressive for an 18-year old. 
He also possesses great awareness for his age. The 18 year old always wants to get on the ball and is never one to shy away from responsibility. As a result of his great awareness, he can be deemed as one of the midfielders who are 'press resistant'. He has also got a strong physical presence. Even though he is just over 6 ft, his lean physique is just about at the stage where he can turn and dribble past players quickly but also not be bullied by his counterparts while he is in possession of the ball. His awareness coupled with his great vision allow him to play the creative, box to box role he has been playing for Rennes. Almost acting like a 'Mezzala'. 
However, Camavinga still has a long way to go in terms of his technical and physical aspects. The midfielder still can't be considered as a goal threat, either by his long shots or his presence in the 18-yard box. While his positioning and vision is still not polished, it is to be considered that the Frenchman is just 18 years old. 
In short, Eduardo Camavinga is a tenacious, dynamic, box to box midfielder. His awareness, tackling ability, dribbling and passing allow him to be a great all round option to have in the middle of the pitch. 
Tactical Fit at Manchester United
Well, first things first, Eduardo Camavinga is not someone who can play alongside Paul Pogba in the pivot as many fans are suggesting he might. He may have some of the skills required but his natural game isn't that of a holding midfielder and if Pogba is to be played in a double pivot, he needs someone in that profile to play alongside him. Someone in the similar mould of a Nemanja Matic and even that is not enough to get the best out of Paul Pogba. He works best playing in the attacking areas of the LW-half space, something he has done recently for Manchester United playing from the LW.
So, if we cancel out the possibility of Paul Pogba playing in the deep midfield pivot in a 4-2-3-1 that leaves us with 4 potential partners Eduardo Camavinga can be paired with them being Fred, Scott McTominay, Nemanja Matic and Donny van de Beek. Now the main reasons why van de Beek can't be a good partner for the French youngster is the same as Pogba in the sense both are much better playing closer to the goal. Adding to the fact that whenever van de Beek has played, he has played in the no.10 spot under Solskjaer. So, the Norwegian manager definitely doesn't consider him to play in the pivot as a deeper lying midfielder. 
Now, that leaves us with only 3 options. Scott McTominay, Fred and Nemanja Matic. Camavinga would thrive if he's paired with any of the aforementioned midfielders. Let's understand why by taking the most recent game against Leeds United as an example. 
In that game, Manchester United lined up in their trademark 4-2-3-1 with McTominay and Fred playing in the double pivot while Pogba started on the LW and Bruno Fernandes played in his usual no.10 role. The McTominay-Fred pivot or 'McFred' allows Pogba and Bruno to link up further up the pitch. 
The midfield pivot was very dynamic as they both didn't have a defined role as McTominay and Fred (and Camavinga) are all pretty similar players. Manchester United usually build up with a 2-4 or a 3-3 shape including the backline and the fullbacks depending on who the opposition is. In that build up phase, Fred drops deep to receive the ball while McTominay is the one who is a more free midfielder given the license to roam in the middle of the park looking for pockets of spaces but again, even that depends on game to game. In short, both midfielders can do the job of carrying the ball from the deep and their high energy and work ethic suit the fast-paced counter pressing, quick transition style of play Manchester United like to play.
As we can see here, United build up in a 2-4 shape when they are pressed with 2 strikers with McTominay and Fred both dropping a bit deep to receive the ball. But once United are past the build up phase, McTominay is the one who makes the late runs from midfield and Fred is the one who holds his position. 
Just by seeing his heat map in the game against Leeds United, it is pretty evident that McTominay likes to make runs and maraud forward
That is the role where Camavinga would thrive under at Manchester United. He is good at dropping deep and building from the back but he is also among the best young dribblers in Europe making him a very good ball carrier. His work rate coupled with his excellent dribbling and we have a younger and maybe arguably better version of Scott McTominay. 
As you can see, his progressive carrying and dribbling makes him a very viable alternative to the role the Scotsman plays at Manchester United.
Considering the fact that Eduardo Camavinga is still very young, he can very well be developed into the role Fred plays as well. While his passing and vision isn't polished, his awareness and press-resistant nature means he is very good at dropping deep and receiving the ball. His passing and vision can only improve in the future. As mentioned earlier, when Manchester United build up in a 3-3 shape with Fred or Matic dropping in the defence, Camavinga can easily be the mid who drops deep too as he has all the attributes in him to be developed in that profile. Adding to the fact that Camavinga's work rate is pretty similar to Fred. 
Being alongside Nemanja Matic and he can very well play the same role Scott McTominay plays as the Serbian is the perfect DM allowing Camavinga the freedom to carry the ball forward in threatening attacking spaces allowing Bruno Fernandes and Paul Pogba to be closer to the goal and flex their creative or goalscoring muscles. 
All in all, Eduardo Camavinga going by his most recent form is the perfect alternative for Scott McTominay in the current 4-2-3-1 setup that Manchester United play but can be a viable alternative for Fred also seeing how much of a versatile midfielder the young Frenchman actually is. Assuming that Paul Pogba would play on the wings in the near future, signing Camavinga would make a lot of sense for Manchester United. 
Now, there are multiple situations pertaining to this. Manchester United are long term admirers of Declan Rice and if Rice was to switch sides and join the Manchester based club along with a contract extension for Paul Pogba, it would mean Pogba would be dropped back into midfield as a pure Defensive midfielder like Rice would allow Pogba to play with more freedom from the midfield pivot which could hinder Camavinga's opportunities in the first team. If Pogba won't renew his contract then Camavinga is probably among the top 5 candidates to replace him.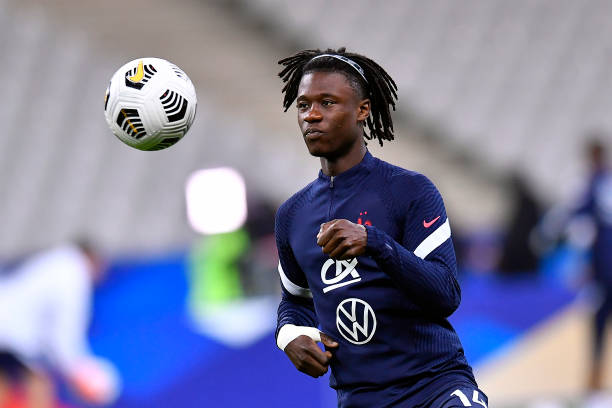 If we look closely at the current scenario, it looks like Paul Pogba would be staying at Old Trafford this season and that would mean the current setup with Pogba playing on the LW would be Solskjaer's go-to system considering that Rashford is out for a considerable time. That leaves Manchester United with only 3 viable options who can play in the midfield pivot with 'McFred' and Matic and it only makes sense to bring in another option to add to the depth of the squad. 
In conclusion, Manchester United should make a late push for Eduardo Camavinga as his asking price is probably the lowest it can ever be and the financial strength of Manchester United's competitors for his signature is also the weakest at the current moment. If Camavinga does decide to run down his contract and leave Rennes next season, then Manchester United may have to be involved in a bidding war for the young Frenchman's signature. If Manchester United do manage to make a late push and get his signature then the transfer window would be classified as a very successful window for the Red Devils.