After an extraordinary summer transfer window which saw many big names switch their allegiance it's time for the wonderkids to realise their dream of playing for a big club. The winter window will be quiet but the upcoming summer window will see a lot of clubs bidding for a host of young talents. Among the popular names, there's a lesser known player who has turned the eyes of many clubs like Liverpool,Barcelona and Dortmund. Karim Adeyemi has had one impressive performance after another and is the next big thing to come out of RB Salzburg's amazing talent factory.
Player Background-
Name- Karim Adeyemi
DOB- Jan 19,2002(19)
Country – Germany
Height- 177CM
Foot- Left
Wage- € 8,120 p/w
Positions – CF,LW,RW
Similar players- Timo Werner,Breel Embolo,Ben Yedder
Adeyemi started his career at the age of 8 at FC Forstenreid after which he moved to the youth system of Bayern Munich. It didn't go well for him at Bayern and he soon moved to SpVgg Unterhaching in Germany where he began to show glimpses of his talent. RB Salzburg signed him up in 2018 and immediately sent him to their feeder club FC Liefering. He impressed there so much that he was shortly called back to Salzburg's main team to be part of their attacking force.
Playing Style-
Adeyemi, who's left-footed, likes to play in the centre forward position but he can be equally menacing on the wings. His style of play is very direct,intense and energetic. He likes to dribble and also likes to run behind defenders which makes marking him a big task. Coupled with his blistering pace, he has great balance and agility, thus making him difficult to contain during counters.
Although last season he was used mostly as a sub, this season he has been their preferred man upfront and he has given a great return. He has scored 14 times this season in 15 starts at a rate of 0.8 p/g. He has taken 2.7 shots p/g with 1.5 of them on target. He has a penchant for dribbling and then taking a shot, a characteristic feature found in many goalscoring wingers. Coming to chance creation, he has given 2 assists while giving 1.2 key passes p/g. So apart from scoring, he can create goals for his teammates although he will look to improve his passing if he wants to fit in a system which needs him to keep the possession. He has a dribble success rate of 46% with 2.1 dribbles p/g. He wins 3.5 duels p/g, an amazing number which shows his defensive ability.
Given the fact that he is still very young, his decision making can sometimes be rash, a thing which can be polished by proper coaching. Sometimes he tries to do too much with the ball often which might give the defence time to settle or block his passing lanes. Adeyemi's best ability is finishing, he has that keen eye for goal and he takes very well placed shots which is a rare attribute at this age.In tight areas,he breezes past defenders and cuts in swiftly, either taking a shot or setting up a teammate. When he's in wide areas, he tries to cut inside on either wing rather than whipping in a cross,some attributes of an inside forward or a second striker. Rather than leading the forward line, he would be the one dropping a little deep and moving his way forward as he makes spaces for his teammates. He interprets the space around him and can dribble his way out or play a slick one two and move in open areas where he has the advantage. Adeyemi's off the ball movement is really good which makes him a perfect player for teams which attack spaces and rely on off-the-ball movement.Coming to his weaknesses, Adeyemi is a poor passer as of now and needs to work on that aspect. If he plays in a possession based team he'll have to contribute in the build up with quick thinking and passing. Also he will have to improve his movement in tight areas as he won't get so much space in other big leagues. That being said, he works hard and tries to do the best with every opportunity he gets on the ball. Hopefully he can overcome his shortcomings and develop his stronger areas to suit whatever team he plays for.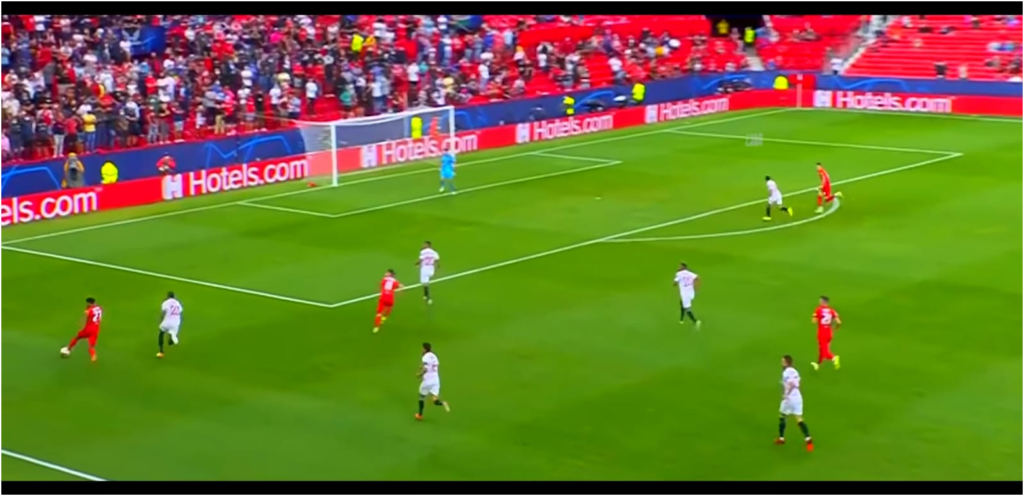 Conclusion:
Salzburg play an attractive brand of football, pressing high up the pitch and relying heavily on constant off-the-ball movements. Adeyemi is generally the one who starts the press upfront, and is adept at troubling defences with his blindside runs and mazy dribbling. As he's very young, he can be moulded into any kind of forward as the manager wants because of his diverse skillset which suits a lot of tactics. If he fits in a system perfectly he will be a force to reckon with. Barcelona,Dortmund,Bayern and Liverpool are the clubs who fancy his signature and rightly so. At a price of about 40 million euros, he can become an asset to any team and under the right manager and tactics, he can flourish and become a player whom everyone will love to watch.